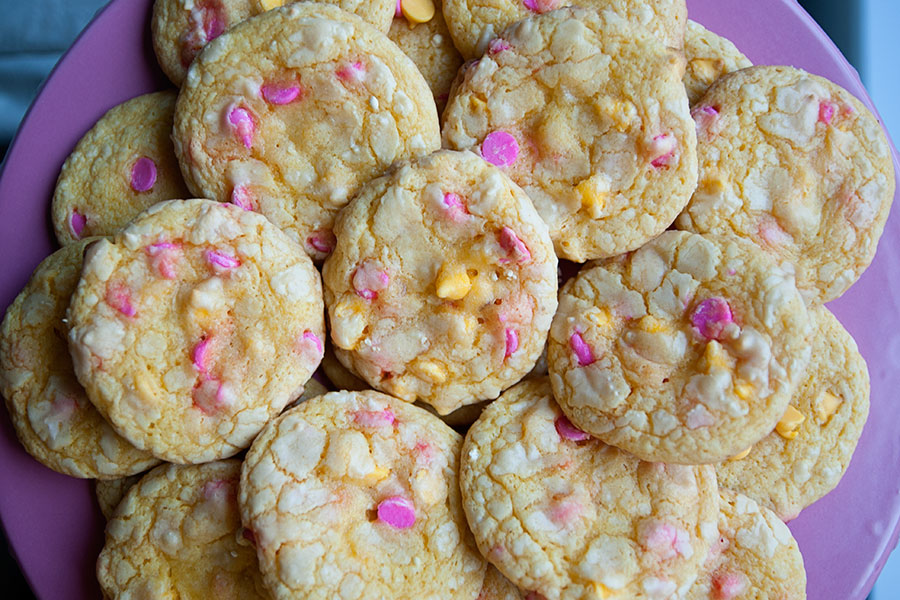 My friend Britteny's birthday was a month ago today. We were in the midst of law school finals, so she didn't really get a proper celebration. As I've always said, law school is the killer of all things joyous. But I digress. Britteny loves anything and everything lemon, so I made her these cookies. They were a big hit at school!
Hope all of you in the United States had a nice Memorial Day weekend!
Lemon Cookies
Recipe Source: Love from the Oven
Print Recipe
1 box lemon cake mix
2 tablespoons flour
1/2 tsp baking powder
2 eggs
1/3 cup vegetable oil
Juice from one lemon
Grated lemon peel from one lemon
1 cup pink and yellow Nestle Springtime Morsels (or white chocolate chips)
1. In a large bowl, combine all ingredients and mix well to combine. Dough will be quite sticky. Chill covered in refrigerator for 30-60 minutes.
2. When ready to bake, preheat oven to 375F. Once oven is ready, remove cookie dough from fridge and drop by spoonfuls (approximately 1-2 tablespoons per cookie) onto a baking sheet covered with parchment paper.
3. Bake for 7-10 minutes or until very lightly browned. Remove from oven and allow to cool completely. Store tightly covered.