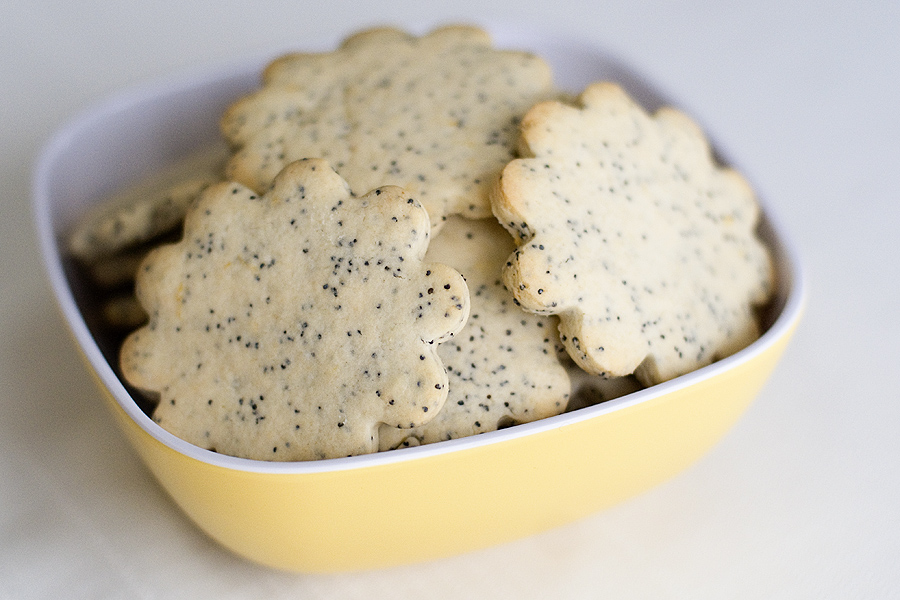 Happy New Year! I've been home on winter break and haven't had much time for baking — it's funny how you get distracted by a million other things. But here's a great cookie recipe. My mom loves anything lemon or poppy seed-related, so I made these just for her.
Lemon Poppy Seed Cookies
Recipe source: Family Circle
Print Recipe
2-1/2 cups all-purpose flour
1 teaspoon baking powder
1/2 teaspoon salt
1/2 cup unsalted butter, softened (salted butter is also okay)
2/3 cup sugar
1 egg
2 teaspoons lemon zest
2 tablespoons lemon juice
2 tablespoons poppy seeds
1. In a small bowl, whisk together flour, baking powder, and salt; set aside.
2. Beat butter and sugar on medium-high speed for 2 minutes or until smooth. Beat in egg, zest, and juice until fluffy – about 1 minute. Gradually beat in flour mixture on low, just until blended. Add poppy seeds; stir to combine. Divide dough in half. Flatten each into 6-inch square; wrap in plastic. Refrigerate 2 hours or overnight. Let stand at room temperature 15 minutes before rolling out dough.
3. Heat oven to 350F. Line two baking sheets with parchment paper. Lightly flour dough. Roll half of dough onto lightly floured surface to 1/4-inch thickness. Use any cookie cutter of your choosing to cut out the cookies. Reroll scraps and repeat. Place cookies 1 inch apart on baking sheet. Repeat with other half of dough.
4. Bake at 350F for 10-13 minutes, or until edges are golden brown. Remove to rack to cool completely.