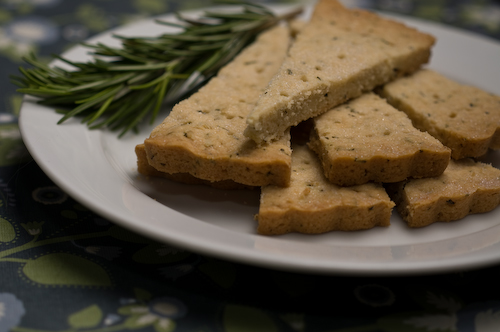 I LOVE anything with butter and shortbread is one of my secret shames. I would probably cut off my left hand to get the recipe for that Scottish Walker's shortbread, which in my mind, is the quintessentially perfect cookie. In spite of this, I am not a shortbread purist, per se, so I am open for experimentation. I have been on an herb kick lately, so I thought this recipe was worth a shot. The recipe on which this post is based calls for rolling out the dough and cutting it with cookie cutters. Once I blended in the butter, though, it immediately 'felt' like a pie crust (i.e. turned into sticky little crumbs), so I thought, why fight it? I pressed it into an 8″ tart pan voila! Now let's just hope all the people at work feel the same way about rosemary…!
Lemon Rosemary Shortbread
Print Recipe
1 1/2 c. flour
1/4 c. powdered sugar
1 tsp. salt
1/2 c. butter, softened
1/2 tsp. lemon extract (or,preferably, ~ 2 tsp. fresh lemon zest if you have it)
2 Tbsp. minced rosemary, fresh
2 Tbsp. granulated sugar
Directions:
Preheat oven to 325 oF.
Whisk together flour, sugar and salt. Beat in butter and lemon flavoring. Mix in rosemary. Add water, 1 Tbsp. at a time, to the dough and beat as necessary to achieve a consistency resembling large breadcrumbs. Dough should stick together well when squeezed between fingers.
Press dough into bottom of 8″ tart pan with removable bottom. Score dough into wedges (I did 16) and adorn pattern into top with end of wood skewer, if desired. Sprinkle dough with granulated sugar.
Bake ~35 – 40 minutes until edges begin to brown slightly. Remove from oven, cutting at scored marks once more. Let cool in pan before transferring to another container.