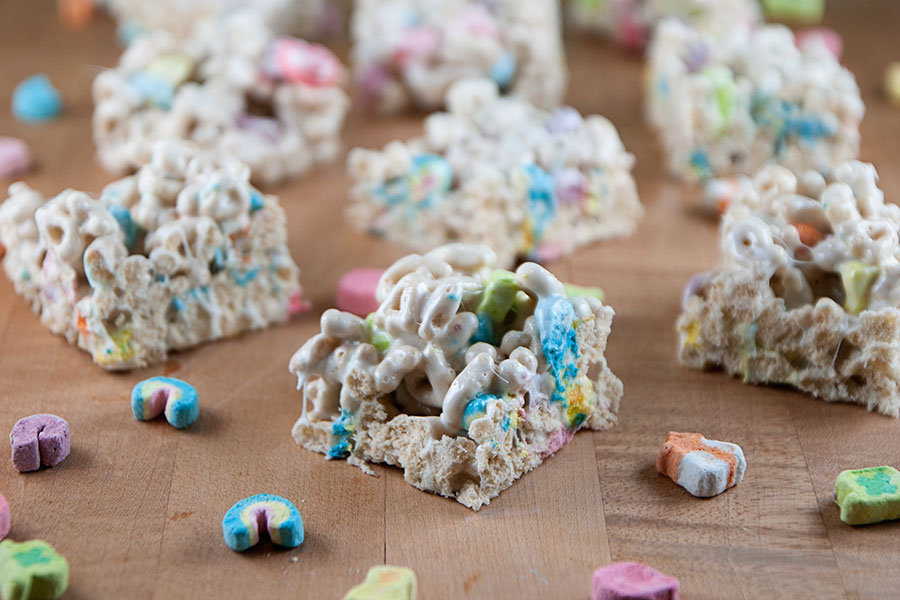 St. Patrick's Day is a week from today! If you want an EASY treat to make for school or the office, give these a try. They're just a different version of the classic Rice Krispie treat – but made with Lucky Charms instead of Rice Krispies. And I feel like I have to say this because I've gotten comments in the past: yes, these will be SWEET. Anything made with sugary cereal plus marshmallows will be SWEET. So I don't wanna hear commentary about how SWEET these are! :)
Check back in a few days because I have some St. Patrick's Day cookies to share!
Lucky Charms Bars
Print Recipe
4 cups Lucky Charms cereal
7 oz. marshmallows
2 Tablespoons butter
1. Spray a 9×9 pan with nonstick spray.
2. Melt the butter in a large pan over medium heat.
3. Add the marshmallows and stir until melted and smooth.
4. Add the 4 cups of cereal and stir until completely coated in marshmallow.
5. Pour into the 9×9 pan and flatten with the back of a spoon.
Note: If you want to make a larger batch — to fill a 9×13 pan, for example — I would suggest doubling the recipe.