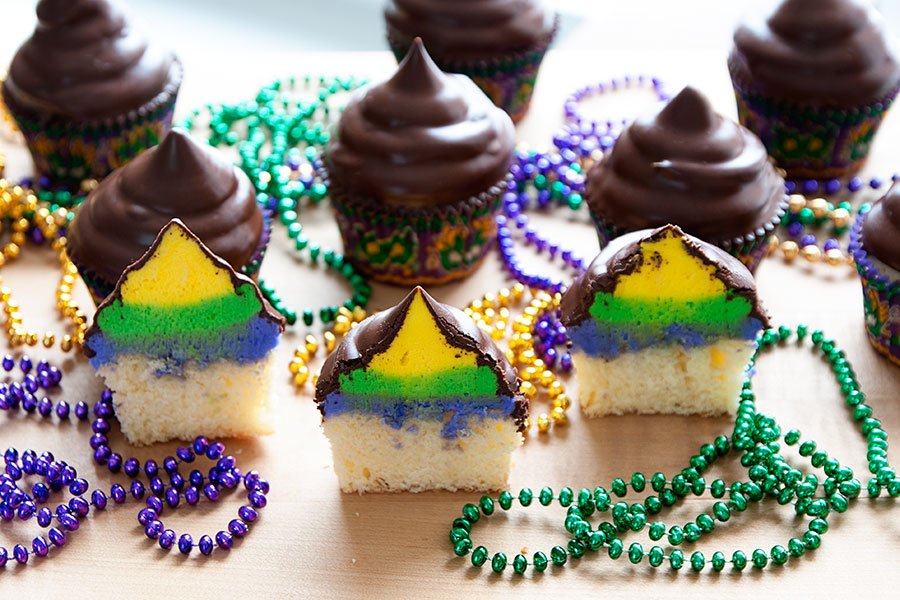 Mardi Gras is a week from today! Admittedly, this is not a big holiday in Wisconsin. At all. But I've always loved the spirit of it — and I would love to visit New Orleans someday! I spotted these cupcakes on the wonderful I Am Baker last year and had to try them out.
I had never made hi-hat cupcakes before and for the most part it was a smooth process. I only lost one mound of frosting to the bowl of chocolate coating! I've added some additional instructions to the recipe that will hopefully help you out if you are also new to hi-hats.
Happy Mardi Gras!
Mardi Gras Hi-Hat Cupcakes
Recipe source: I Am Baker
Print Recipe
Make a batch of cupcakes. You can use a box mix to make some from scratch (I used this Food Network recipe for yellow cupcakes). Any flavor will work. When the cupcakes have cooled completely, cut the tops off of each cupcake to remove the little "mound." You will want a flat surface for the frosting to sit on.
Make a batch of buttercream frosting. Go homemade with this. I used I Am Baker's recipe and it was great. Divide the frosting into three bowls and use gel food coloring to dye the frosting purple, green, and yellow. Whatever color you choose to put on top will be what you need the least of. In my case, I allocated more frosting to be purple and green than I did for the yellow.
Using a large, round tip, pipe frosting onto the cupcakes. Pipe a large purple base, then the green, then the yellow.
Make the chocolate coating & dip:
11 oz. chocolate chips or finely chopped
3-4 tablespoons vegetable oil
1. Combine chocolate and oil in a medium heat-proof bowl set over a saucepan of barely simmering water.
2. Stir until melted and smooth.
3. Transfer to small container with high sides (like a drinking glass, just make sure its wide enough to fit cupcake), and let cool about 15 minutes. [I used a large Starbucks coffee mug for this step]
4. Holding cupcake by its base, gently dip it into chocolate and then remove. Let as much excess chocolate drip off as possible, then set aside and let harden. [Dip the cupcake quickly! The longer you let it linger in the chocolate, the more likely the mound of frosting will fall off.]
Makes 12 cupcakes.
If you want to see what I've made in years past for Mardi Gras…

1. Mardi Gras Cake Pops
2. King Cake
3. King Cake Knots
4. King Cake Monkey Bread