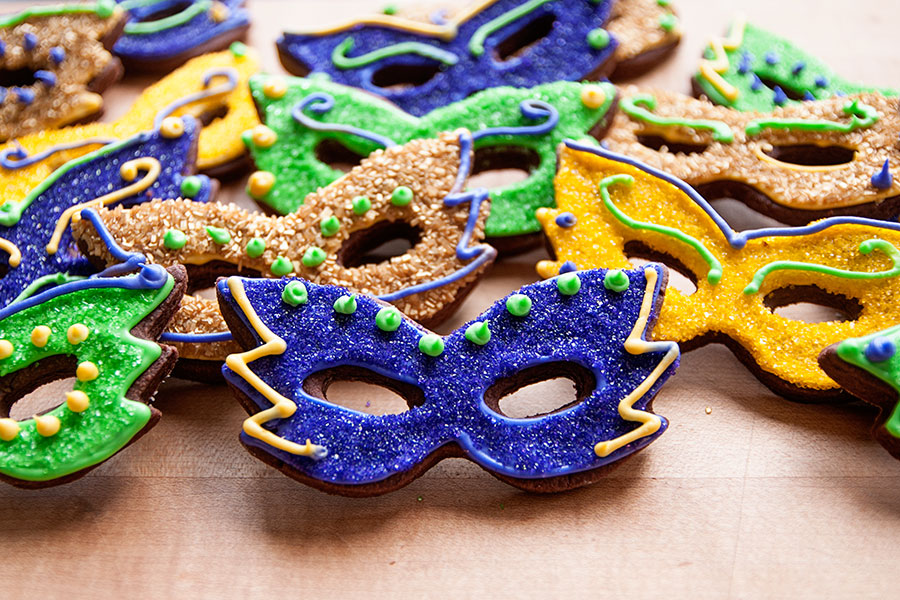 Mardi Gras is next Tuesday, February 17th! This is not a big holiday here in Wisconsin, but I still try to bake a treat or two each year in celebration. I love the idea of Mardi Gras and I love the colors, so why not? Laissez les bons temps rouler to all those who celebrate!
I made these mask cookies and decided to make a chocolate cookie base instead of my usual sugar cookie. I thought the chocolate would be a bit more dramatic and I love how these turned out!
If you are a new to decorating with royal icing, here are some helpful tips and links:
I used a chocolate shortbread cookie recipe, which is listed below.
I used a royal icing recipe from Annie's Eats, which is listed below.
If you are new to decorating with royal icing, please visit this post by Annie's Eats, which will teach you about outlining and flooding.  Bake at 350 is also a great resource for cookie decorating and ideas (I love Bridget's book, too!).
Here are the specifics on how I made these cookies:
I used a mask cookie cutter which I ordered from Amazon.
You will need yellow, green, and purple sanding sugar. I found mine at a baking shop here in Milwaukee, but I know that you can find sanding sugars at craft stores like Hobby Lobby or Jo-Ann Fabrics. Or when all else fails, order them online!
You will also need yellow, green, and purple food coloring. I always use Wilton's gel dyes — Yellow, Leaf Green, and Violet.
I divided the icing into three bowls, colored the icing, then outlined and flooded each cookie (see the links above if you need assistance with these steps). Before the flooded icing set, I dipped the cookie into sanding sugar.
I kept some of the leftover icing and piped detailing on top of the sanding sugar. I used a small round pastry tip for this step.
Chocolate Shortbread Cookies
Recipe source: Two Peas & Their Pod
Print Recipe
2 cups all-purpose Gold Medal flour
2/3 cup Dutch processed cocoa powder
1/2 teaspoon salt
1/2 cup plus 2 tablespoons granulated sugar
1 cup unsalted butter, at room temperature
1 teaspoon vanilla extract
2 cups semi-sweet chocolate chips, melted
Plus sprinkles, disposable pastry bags, and small round pastry tips for decorating
1. Sift the flour, cocoa and salt together. Set aside.
2. In the bowl of a stand mixer, cream together the butter and sugar until light and fluffy, about 3 minutes. Mix in the vanilla extract. Slowly add in the flour mixture and mix until combined. Between two sheets of waxed paper, roll the dough 1/4-inch thick as evenly as possible. Chill for 30 minutes.
3. Position a rack in the middle of the oven and preheat the oven to 350 degrees F. Line a large baking sheet with parchment paper.
4. Cut out the cookies with a cookie cutter. Arrange the cookies on the prepared baking sheet.
5. Bake the cookies for 15 minutes, or until crisp and firm. Let the cookies cool on the baking sheet for two minutes and then transfer to a wire cooling rack to cool completely.
The yield will depend on the size of your cookie cutter. I was able to get about 18 masks out of this recipe.

White Royal Icing
4 cups powdered sugar, sifted
2 Tablespoons meringue powder
5 Tablespoons water
Directions:
Combine all ingredients in the bowl of a stand mixer fitted with the paddle attachment. Mix on low speed until the sheen has disappeared and the icing has a matte appearance (about 7-10 minutes).  Transfer the contents of the mixing bowl to an air-tight container. This will be the stiffest consistency of the icing, and at this point it is still too stiff to use for decorating. Add water a very small amount at a time and stir by hand until fully incorporated. Continue until the icing has reached a consistency appropriate for piping.
You may need to make two batches of this depending on how many cookies you are making and the size of your cookies.