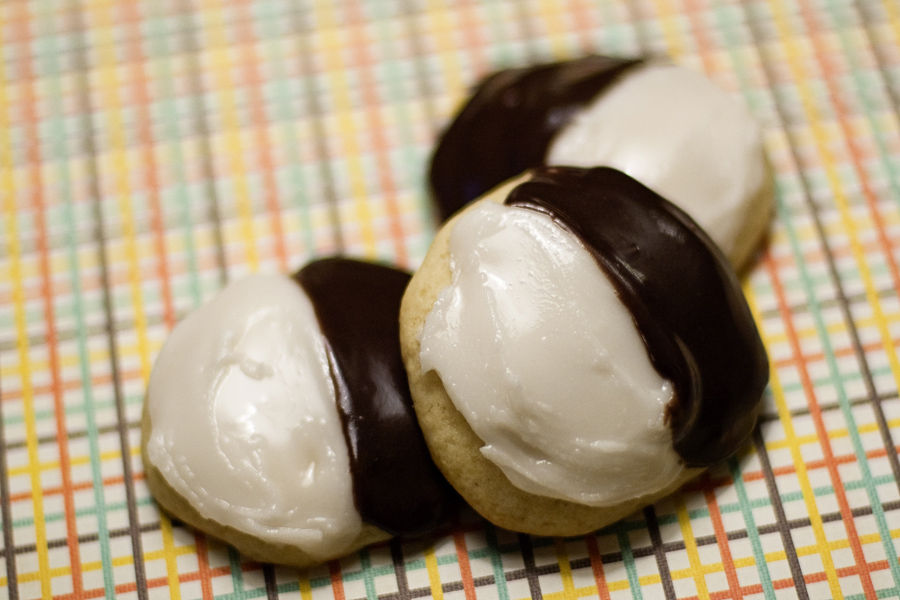 Pardon the crappy photo. It was about midnight when I finished these and didn't have any natural light to work with! These cookies turned out really well. The cookie tastes more like cake. New York bakers used to make these cookies in order to use up their extra cake batter — just add a little extra flour to the cake batter and viola, cookies appear! And I like the duality of these cookies — you can have the best of both worlds: vanilla AND chocolate.
Mini Black and White Cookies
Recipe credit: Martha Stewart's Cookies
Print Recipe
cookies:
1-1/4 cups all-purpose flour
1/2 teaspoon baking soda
1/2 teaspoon coarse salt
6 Tablespoons unsalted butter, room temperature
1/2 cup granulated sugar
1 large egg
1/2 teaspoon pure vanilla extract
1/3 cup low-fat buttermilk
frosting:
2 cups confectioners' sugar
1 Tablespoon plus 1 teaspoon light corn syrup
2-1/2 teaspoons fresh lemon juice
1/4 teaspoon pure vanilla extract
1 Tablespoon water, plus more if needed
1 Tablespoon unsweetened Dutch-process cocoa powder
1. Preheat the oven to 350F. Sift together flour, baking soda, and salt into a bowl.
2. Put butter in the bowl of an electric mixer fitted with the paddle attachment. Mix until creamy, about 2 minutes. Add granulated sugar; mix until fluffy, about 3 minutes. Mix in egg and vanilla. Mix in flour mixture in three batches, alternating with buttermilk.
3. Roll tablespoons of dough into balls; drop onto baking sheets lined with parchment paper, spacing 2 inches apart. Bake cookies, rotating sheet halfway through, until bottoms turn golden – about 10 minutes. Let cool completely on wire racks.
4. Make the icing: Whisk confectioners' sugar, corn syrup, lemon juice, vanilla, and water in a small bowl until smooth. Add more water, if necessary, to achieve a consistency slightly thicker than honey. Transfer half the icing to a small bowl. Stir in cocoa powder; thin with water if needed.
5. Spread white icing on half of each cookie and cocoa icing on the other half. Let stand until set, about 30 minutes. Cookies can be stored between layers of parchment in airtight containers at room temperature up to 3 days.