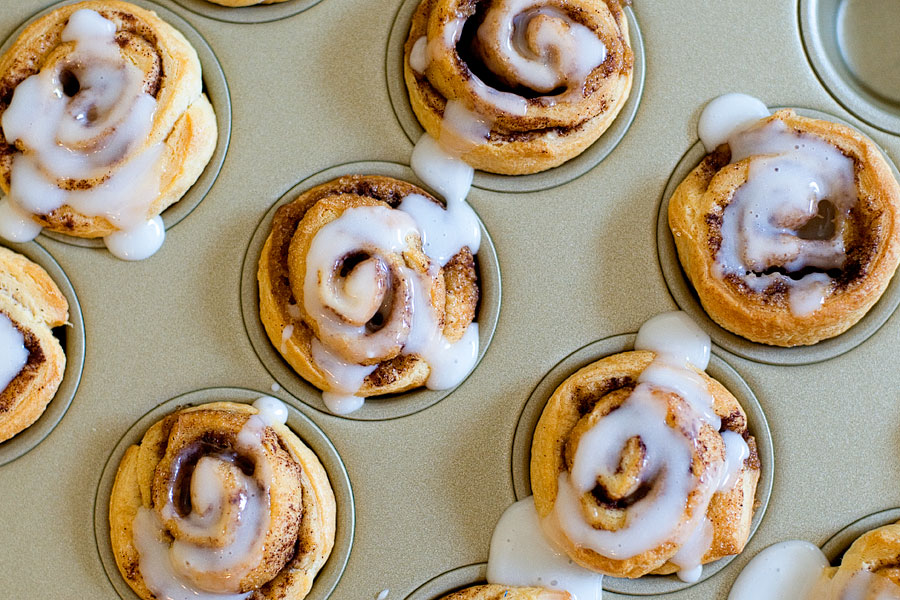 Giant, ooey, gooey cinnamon rolls are on my baking Bucket List. I tried to make them once and it was a comical failure. I would love to have a go-to cinnamon roll recipe and be able to make them without a problem. Someday! Until that day comes, I will settle on these super easy mini cinnamon rolls. They made my entire apartment smell so delicious and they are ridiculously easy to make. They are also dangerous because they are bite-sized…
Mini Cinnamon Rolls
Recipe source: Iowa Girls Eats
Print Recipe
1 8-oz tube of crescent roll dough
2 Tablespoons butter
Cinnamon
Brown sugar
Icing:
1 Tablespoon skim milk
3/4 cup powdered sugar
1 teaspoon maple syrup (optional; if you leave out the syrup, add just a little bit more milk)
1. Preheat oven according to crescent roll dough package directions. Lay out half of the dough (4 triangles) and pinch all of the seams together. After doing this, you will have a large rectangle of dough.
2. Using a rolling pin, smooth the seams and roll the dough into a square about 1/4″ thick. Brush with half of the butter and sprinkle with as much cinnamon & brown sugar as you'd like. Roll into a log and cut into 8 pieces.
3. Place the mini cinnamon rolls into a non-stick sprayed mini muffin tin. Repeat steps 1 and 2 with the other half of the crescent roll dough. Bake according to package directions.
4. Meanwhile whisk together the maple syrup and milk in a bowl. Add in powdered sugar until desired consistency is reached. Drizzle over warm cinnamon rolls.