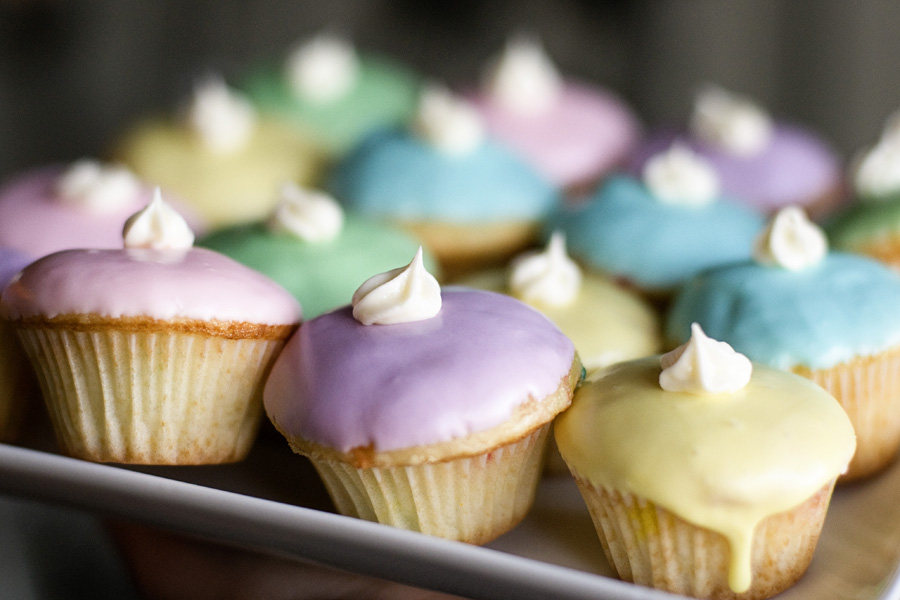 Happy April – the month of spring, in my opinion! The weather is finally improving, Easter is approaching, and all things spring are here. I made these little cupcakes as my last baking project in my previous apartment. Admittedly, I took the easy way out and make funfetti cupcakes from a box and used store-bought frosting — but sometimes, the easy way is just as tasty. If you'd like to replicate these, here's what you'll need:
Mini Cupcakes
Print Recipe
1 box cake mix of your choice (plus oil and eggs, as called for)
2 tubs of vanilla frosting
~ 48 mini muffin tin liners
Assorted food coloring
1. Make the cake mix according to box directions.
2. Line a mini-muffing tin with liners and fill 2/3 full with batter.
3. Bake approximately 11 minutes – and check to make sure a toothpick comes out clean.
4. Allow the cupcakes to cool completely on a wire rack.
5. Divide and color the frosting to your liking. I used pink, yellow, green, blue, and purple coloring.
6. Once the frosting is colored, microwave the frosting, one color at a time, for 8 seconds. Dip the cupcakes in the frosting to coat. The microwaving will soften the frosting and give it the smooth, silky appearance.
7. Decorate the cupcakes with sprinkles or whatever you'd like!