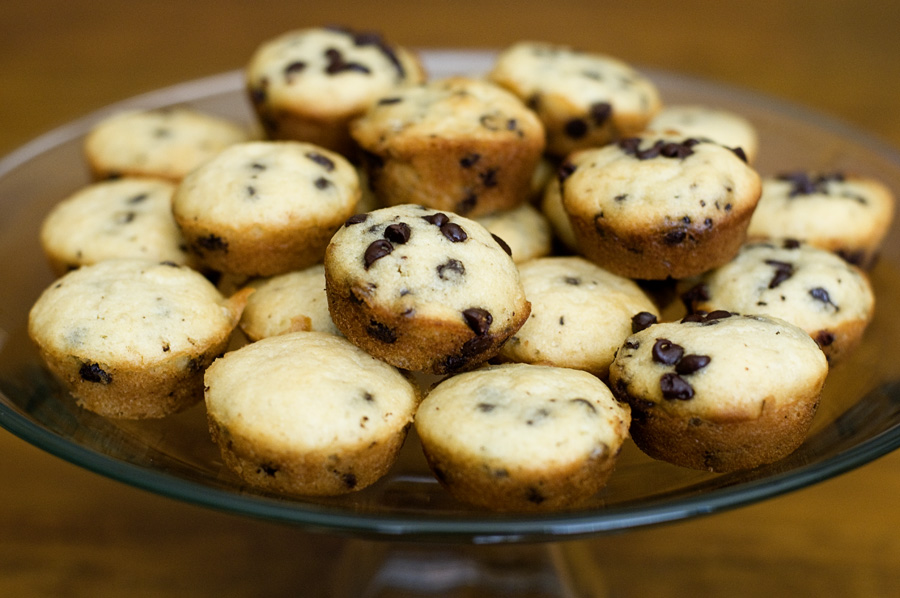 Happy Saturday! The weekend, for many people, brings relaxation, sleeping in, and the time to cook a warm breakfast. If you want to make something delicious and easy, try these mini muffins. Serve them warm and enjoy! Have a good weekend, everyone.
Mini Maple-Chocolate Chip Muffins
Recipe Source: Bakerella.com
Print Recipe
2/3 cup buttermilk
1 egg
2 Tablespoons real maple syrup
2 Tablespoons butter, melted
1 cup all-purpose flour
2 Tablespoons sugar
1 teaspoon baking powder
1/2 teaspoon baking soda
1/4 teaspoon salt
1/2 cup mini chocolate chips
1/2 cup real maple syrup
1. Preheat oven to 350F. Spray 24 miniature muffin cups with cooking spray.
2. In medium bowl, beat buttermilk, egg, 2 Tablespoons syrup, and the butter with a wire whisk. Stir in flour, sugar, baking powder, baking soda, and salt. Reserve a few chocolate chips to sprinkle on muffin tops. Fold remaining chocolate chips into batter. Divide batter evenly among muffin cups. Sprinkles with reserved chips.
3. Bake 12-14 minutes or until very light brown around edges and a tester comes out clean. Cool 3-5 minutes and remove from pan. Place 1/2 cup syrup in a small bowl; serve with warm muffins for dripping.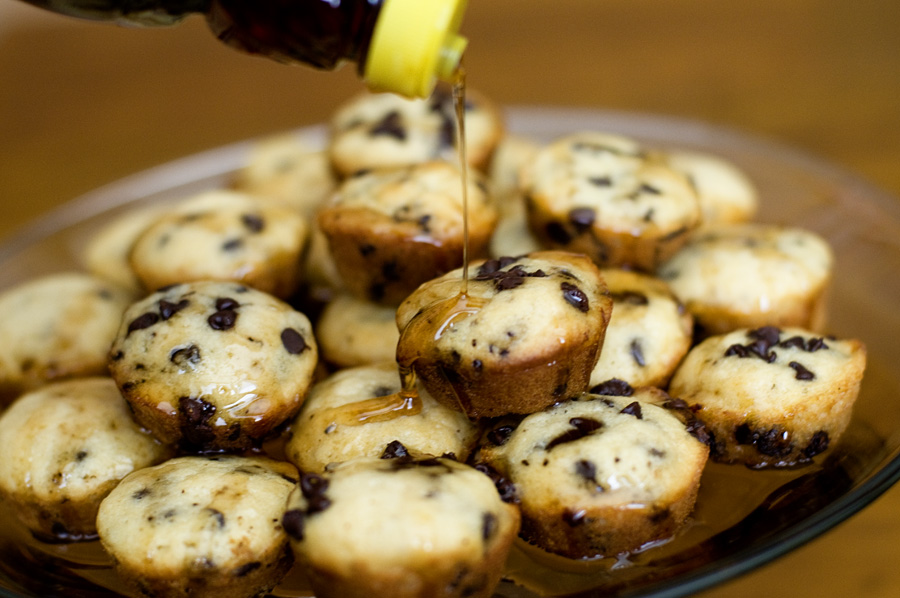 Or just pour some syrup straight from the bottle onto the muffins! Yum. Taking this photo made me realize how difficult it is to hold a camera, compose a halfway decent photo, AND cover the muffins with syrup. I call bullshit on the food bloggers who claim to have no help when taking these sorts of photos!