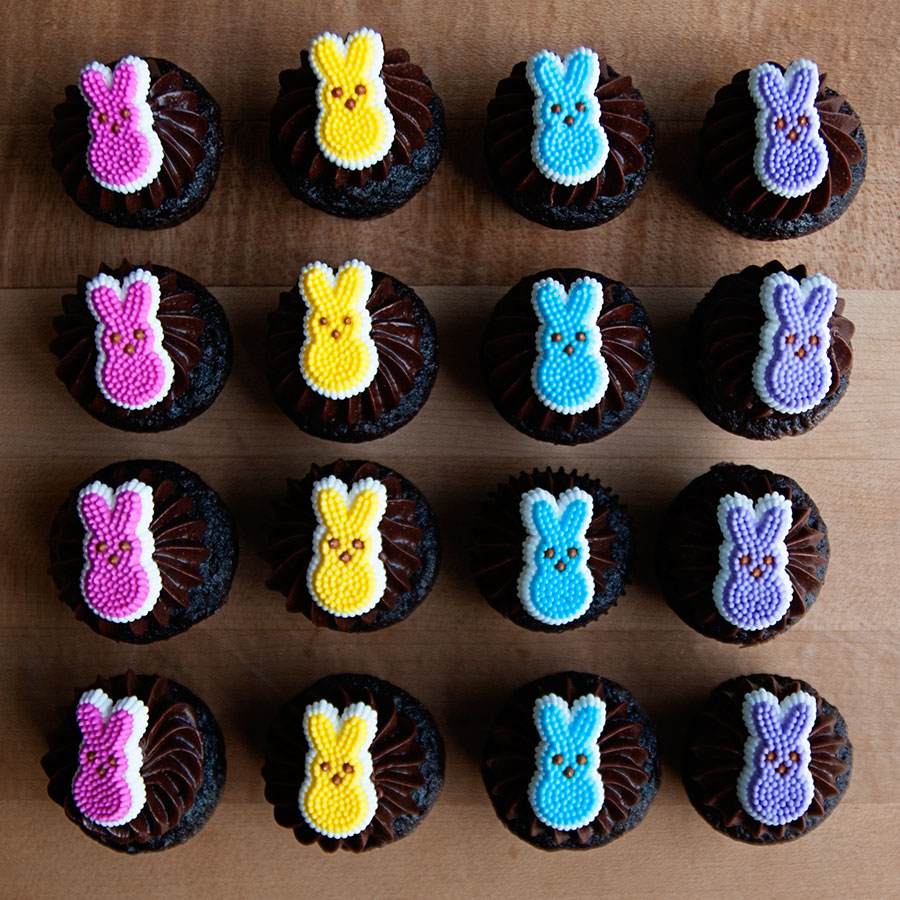 Confession: when I saw these mini Peeps decorations I actually said "wheee!" My mom was with me at the time and thought nothing of it, because she's used to me wheee-ing and squeeeee-ing over adorable baking decorations. But really, I hate Peeps but I love the idea of Peeps. They are so cute and are a quintessential part of the season.
I think Wilton makes these mini Peeps decorations. I found them at Target though you might be able to find them at other retailers that sell Wilton products.
Mini Peeps Cupcakes
Print Recipe
1 box chocolate cake mix (plus required oil + eggs)
1 tub of chocolate icing (though you are free to make homemade icing if you'd like!)
Mini cupcake liners + a mini cupcake pan
A disposable pastry bag
A large French pastry tip
Mini Peeps decorations
1. Line a mini cupcake pan with mini cupcake liners.
2. Make mini cupcakes according to box directions. I baked mine for about 10 minutes. Allow the mini cupcakes to cool completely before decorating.
3. Pipe the chocolate icing onto each cupcake using your disposable pastry bag and French tip. If you don't have a French tip, don't worry — any large tip would work well!
4. Place a mini Peep decoration on top of each cupcake.
Yield: 2-3 dozen mini cupcakes.