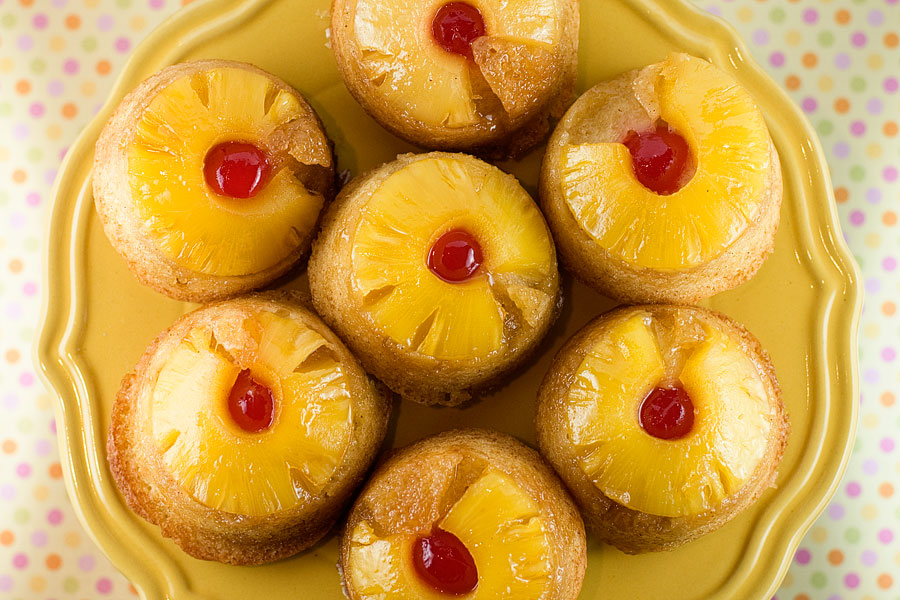 Pineapple is my favorite fruit of all time. I never get sick of it and it always instantly reminds me of our family vacations to Hawaii. The Dole plantation on Oahu is pretty fantastic – all the pineapple and pineapple-themed stuff you could ever dream of. I saw these adorable mini pineapple upside down cakes and had to try them. Cake + brown sugar + whiskey + pineapple + a maraschino cherry? What's not to love?
Mini Pineapple Upside Down Cakes
Recipe source: A Beautiful Mess
Print Recipe
For the topping:
1 can pineapple rings (or you can use fresh pineapple)
1 teaspoon whiskey
6 maraschino cherries
1/4 cup butter
1/2 cup brown sugar
For the batter:
1 1/2 cups flour
2 teaspoons baking powder
1/4 teaspoon salt
1/4 teaspoon cinnamon
1/2 cup softened butter
1 cup sugar
2 eggs
1 tablespoon whiskey
1/2 teaspoon vanilla extract
1/2 cup pineapple juice
1. Preheat oven to 350F and spray a muffin tin with nonstick spray.
2. In a small pot over medium heat stir together 1/4 cup butter, 1/2 cup brown sugar and a teaspoon of whiskey. Once the mixture starts to bubble, let it cook another minute or two. It should thicken a little. Remove from heat and spoon into a buttered cupcake pan.
3. Lay in the pineapple slices and cherry halves. Canned pineapple slices will be a bit too large, so just cut a bit out. The pineapple ring will them fit into the muffin cup.
4. For the batter first whisk together the flour, baking powder, salt and cinnamon. Now cream together the softened butter and sugar. Stir in the eggs, whiskey and vanilla extract. Now add in half the flour mixture, stir. Then pour in the reserved 1/2 cup pineapple juice, stir. Then the remaining flour mixture.
5. Spoon mixture over the prepared pineapple filled pans. Don't overfill the cups, but they will be slightly more full than standard cupcake recipes.
6. Bake for 25-28 minutes until golden brown and a tooth pick inserted in the center comes out clean. Allow to cool for a few minutes. Invert the pan over a cutting board or large plate to turn the mini cakes upside down (which for these is right side up). If any pineapple pieces fall off, put them back in place.
Makes about 1 dozen.