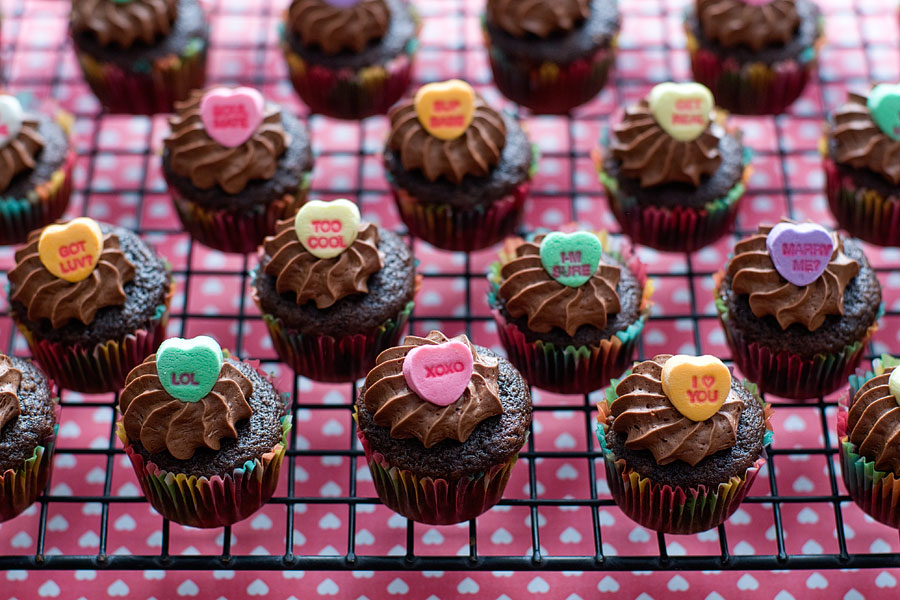 We're four days into February – the month of Valentine's Day! Even if you hate the holiday (as so many people do), you can't deny its cuteness. I mean, it's the holiday of hearts and pink and red and love. The world needs a little bit more of all of those things. Today's recipe is an easy one – as it is entirely semi-homemade. If you don't like conversation hearts, you can top the cupcakes with whatever Valentine's candy you do like. Wilton makes really adorable pressed sugar hearts — or you could top them with Valentine M&Ms. The seasonal aisle at Target has a million different Valentine candies that would work!
Mini Valentine Cupcakes
Print Recipe
1 box cake mix + the required eggs, water, and oil
1 tub of store-bought icing
Mini cupcake liners
Candies for decorating
Pastry bag + tip
1. Bake the cupcakes according to box directions. Mini cupcakes required much less baking time than full-sized cupcakes. I baked mine for 10-12 minutes.
2. Once cooled, frost the cupcakes. If you don't have a pastry tip and bag, you can spread the frosting with a knife.
3. Decorate with candies of your choosing.