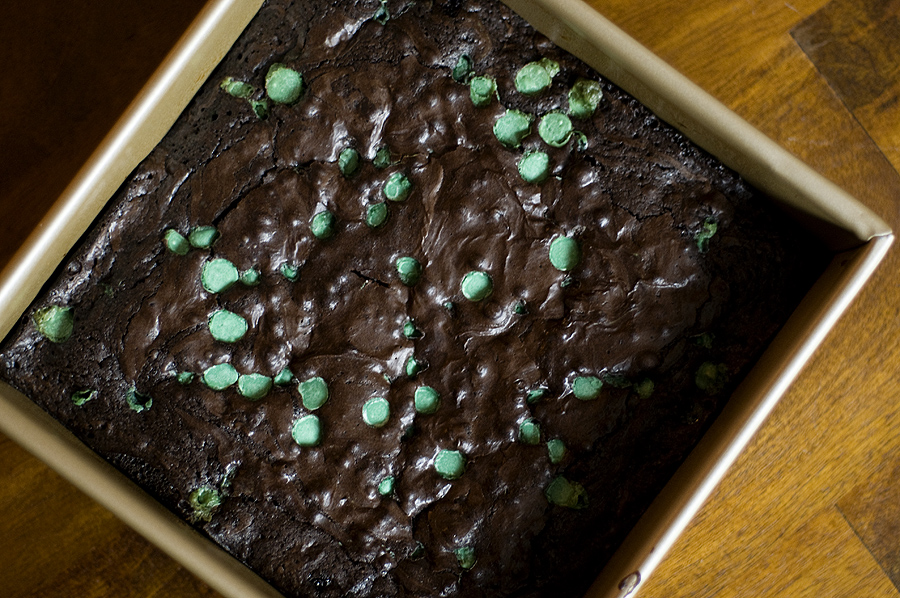 We're three days into March, the month of St. Patrick's Day and all things green. I've got some St. Patrick's Day-inspired recipes coming up over the next few weeks, as well as some recipes that include the color green. Today's recipe is for mint chocolate brownies – also known as heaven in an 8×8 pan. These brownies are incredibly dense and rich – nothing light and fluffy here!
Mint Chocolate Brownies
Recipe source: My Baking Addiction
Print Recipe
12 Tablespoons unsalted butter
1-1/2 cups granulated sugar
2/3 cup dark cocoa powder (I used Hershey's Special Dark)
3 large eggs
1 teaspoon pure vanilla extract
1 cup all-purpose flour
1/2 teaspoon kosher salt
1 cup mint chips; divided use
1. Preheat oven to 350F. Line an 8×8 baking pan with parchment and spray with non-stick cooking spray; set aside.
2. Set a medium sized saucepan over medium heat and warm the butter until melted. Add the granulated sugar and stir well. Remove pan from heat and whisk in the cocoa powder.
3. In a separate bowl, lightly beat the eggs and vanilla. Pour the chocolate mixture into the bowl and whisk in with the eggs and vanilla until well combined. Gently stir in the flour and salt; do not beat or over mix. Fold in 3/4 cup of mint chocolate chips.
4. Pour batter into the prepared baking pan and smooth top with an offset spatula. Evenly distribute the remaining 1/4 of mint chocolate chips across the top of the brownies.
5. Bake at 350 degrees F for 30-35 minutes. Take care not to over bake. Cool completely.