I bought Martha Stewart's Cupcakes book the day it was released. Yes, I was THAT excited. An entire book of Martha Stewart cupcake recipes. Say what you will about the woman, she and her team always produce consistently GREAT recipes. I couldn't decide what to bake first, so I had a friend make that executive decision. He chose the mint-filled brownie cupcakes. Good choice, even though I'm not a huge mint fan. The cupcakes are filled with York Peppermint Patties – yum!!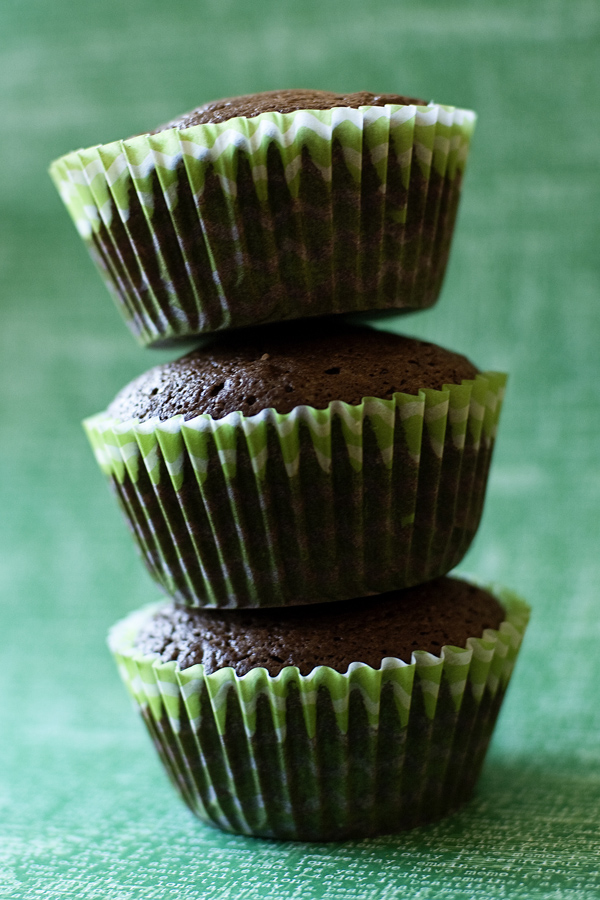 Mint-Filled Brownie Cupcakes
Recipe credit: Martha Stewart's Cupcakes
Print Recipe
8 oz. semisweet or bittersweet chocolate, coarsely chopped
1/2 cup unsalted butter, cut into pieces, room temperature
1 cup sugar
3/4 teaspoon salt
3 large eggs
1/2 cup all-purpose flour
1/4 cup unsweetened Dutch-process cocoa, sifted (I didn't have fancy cocoa…so I used Hershey's special dark and it worked out fine!)
12 York Peppermint Patties, unwrapped
1. Preheat oven to 350F. Line a standard muffin tin with paper liners. Place chocolate and butter in a heatproof bowl set (not in) a pan of simmering water. Stir occasionally just until melted – 4-5min.
2. Remove bowl from heat. Whisk in sugar and salt until mixture is smooth; whisk eggs to combine. Gently whisk in flour and cocoa just until smooth (do not overmix).
3. Spoon 1 heaping tablespoon of batter into each lined cup. Place 1 peppermint patty on top, gently pressing into batter. Top with two tablespoons batter, covering patty completely. Bake, rotating tin halfway through, until a cake tester inserted halfway in centers (above mint patty) comes out with only a few moist crumbs attached (about 35 minutes). Transfer tin to a wire rack to cool completely before removing cupcakes. Cupcakes can be stored for up to 3 days at room temperature in airtight containers.
Makes 12 cupcakes.