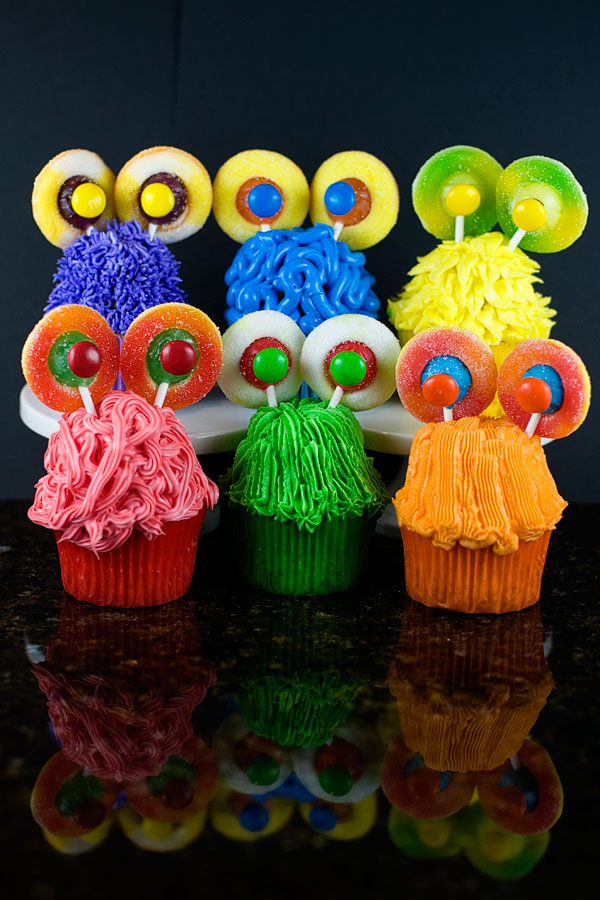 Boo! Halloween is less than two weeks away! Do you have your costume planned? Candy ready to hand out to the kids? I always loved the houses that handed out chocolate candies – or even better, the houses that handed out full-sized candy bars. Jackpot! The duds were the houses that gave raisins ("Nature's candy!" according to Parks and Recreation), apples, or dimes. Don't be that house. It's the Halloween season and we should all indulge a little bit.
If you need to make cupcakes for an office party or for your kid's Halloween party at school, give these a try. They are so simple to do!
Monster Cupcakes
Print Recipe
2 boxes of cake mix (plus required eggs and oil)
A few batches of buttercream icing
Mini cupcake liners
Colorful full-sized cupcake liners
Various piping tips and bags
Various food colorings
Dum-Dums
Gummy rings
M&Ms (or another small candy – Skittles would also work)
1. Make a batch of full-sized cupcakes and a batch of mini cupcakes.
2. Once all of the cupcakes are cool, remove the mini cupcakes from their liners. Using a dab of icing, "glue" each mini cupcake onto the full sized cupcake. This will help to create the dome shape you can see in the above photo.
3. Divide the buttercream frosting and tint each with a different color. The colors are up to you!
4. Using a variety of piping tips, pipe the frosting onto each cupcake. No need to be perfect – they are monster cupcakes! Be crazy. And because I know you'll ask, here are the tips I used: Wilton #16 (red), Wilton #47 (orange), Wilton #352 (yellow), Wilton #21 (green), Wilton #8 (blue), and Wilton #233 (purple).
5. Next, assemble the "eyes". Unwrap the lollipops and stretch a gummy ring around each. Using a dab of frosting, "glue" an M&M to each lollipop. Stick the "eyes" into each cupcake.
That's it! I'll have a few more Halloween recipes up next week – so check back!