Christmas is just about a week away! Are you still looking for a gift for the cooking or baking lover in your life? If so, I hope this post can help. I have a TON of books relating to food, baking, cooking, and party-throwing. A ton. I have one of those oh-so-popular IKEA bookshelves (the Expedit – with all the cubes!) that is nearly full of just books. I've picked some of my favorites to feature in today's post. I'm not being paid to promote these books – they are just my favorites and what I would recommend to people. So make a list and head to your local bookstore!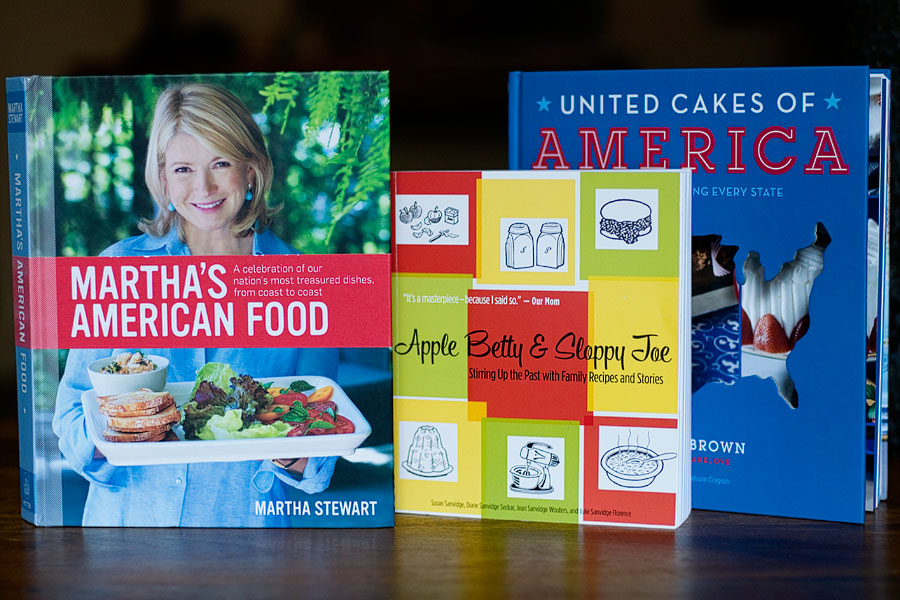 1. Martha's American Food: A Celebration of Our Nation's Most Treasured Dishes, from Coast to Coast. I love America. I love traveling. I love food. And I'm a big fan of Martha's brand because of its consistent quality.
2. Apple Betty and Sloppy Joe: Stirring Up the Past with Family Recipes and Stories. This is a book written by four sisters from Oshkosh, WI — my hometown! The recipe collection in this book makes me miss my grandmother's no-nonsense way of cooking — and how the simple dishes are always the best.
3. United Cakes of America: Recipes Celebrating Every State. I love the concept of this book. Travel the United States through cake. What's not to like?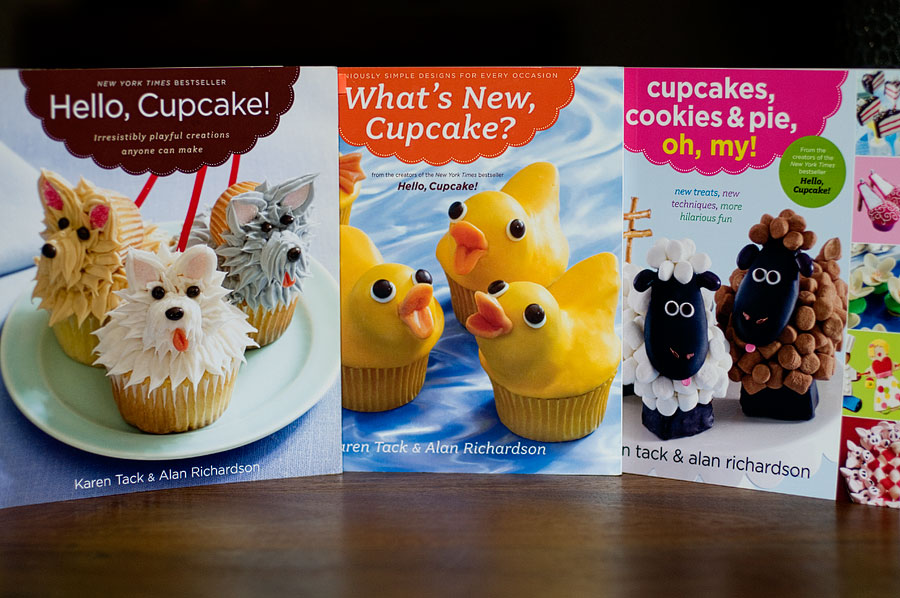 1. Hello, Cupcake!
2. What's New, Cupcake?
3. Cupcakes, Cookies & Pie, oh my!
For those of you who love to decorate cupcakes, these books are phenomenal. The best part? The ideas are not overly complicated and they're do-able! I know what it's like to look at a picture of an intricately decorated cookie or cupcake and say, "Ha! Yeah, right. Not gonna happen." But that's not true with these books. The authors walk you through each design step by step. And all of the ingredients and embellishments are things you can buy at your grocery store or Target.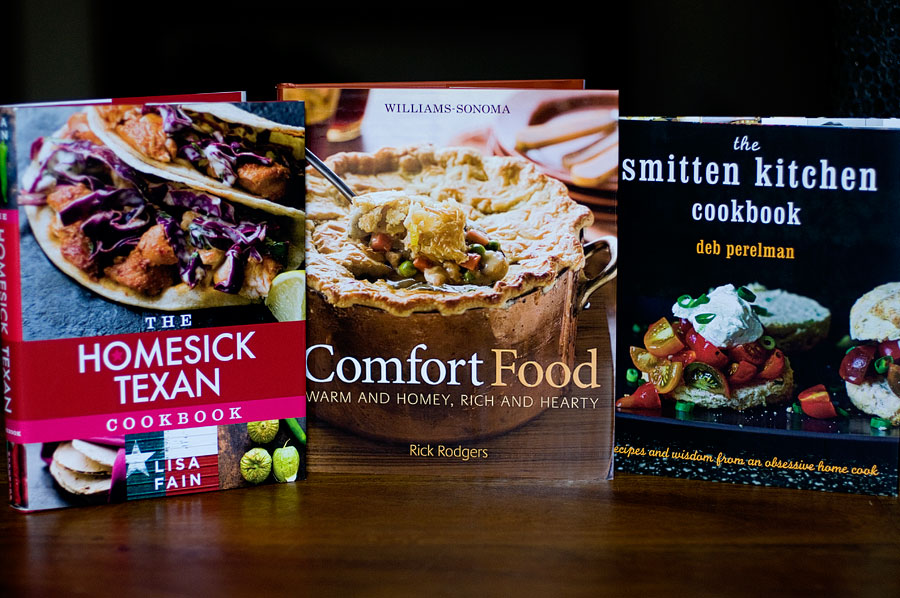 1. The Homesick Texan Cookbook. After reading this book, it is now one of my dreams to visit Texas and eat my way through the entire state. Mmmm.
2. Williams-Sonoma: Comfort Food. Umm, duh. Who doesn't love comfort food?
3. The Smitten Kitchen Cookbook. Smitten Kitchen was one of the very first food blogs I started to read. I remember bookmarking and printing out so many of Deb's recipes. I love her writing style and she writes consistently great recipes.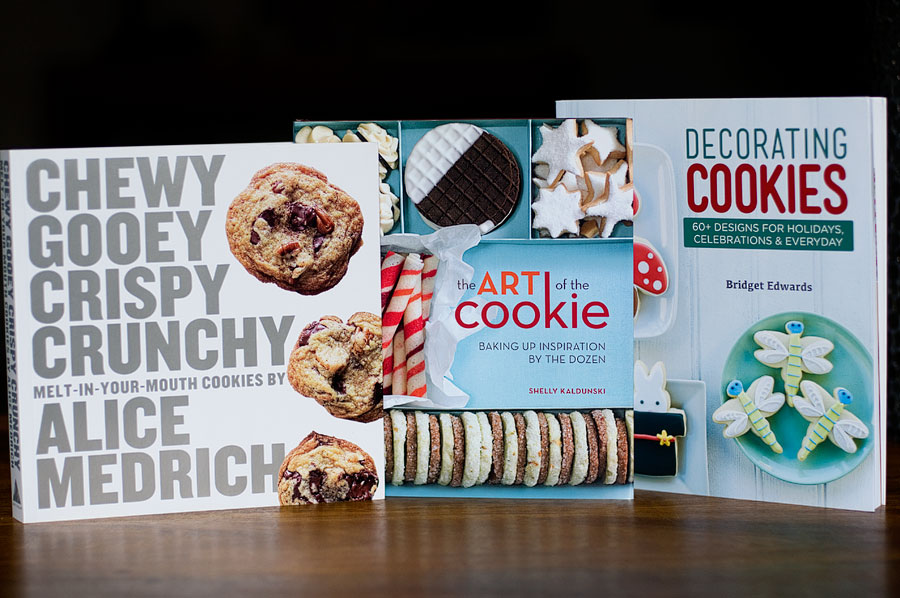 1. Chewy Gooey Crispy Crunchy Melt-in-Your-Mouth Cookies. I've always said that there are two kinds of people in this world: those who love chewy, gooey cookies and those who love crispy crunchy cookies. This book is perfect for everyone.
2. The Art of the Cookie. Oh, this book is beautiful. The photos are stunning and I was so inspired to try each and every idea presented. Sometimes I wish I could take the entire month of December off from work or school or any other responsibility and just make Christmas cookies.
3. Decorating Cookies: 60+ Designs for Holidays, Celebrations, and Everyday. It's no secret that I'm a big fan of Bridget's Bake at 350 blog. That woman is a cookie decorating pro. Her designs and execution are just amazing. This book is great because she walks you through each and every step of decorating cookies with royal icing — and she does it in a way that is not at all intimidating or pretentious. Love love love.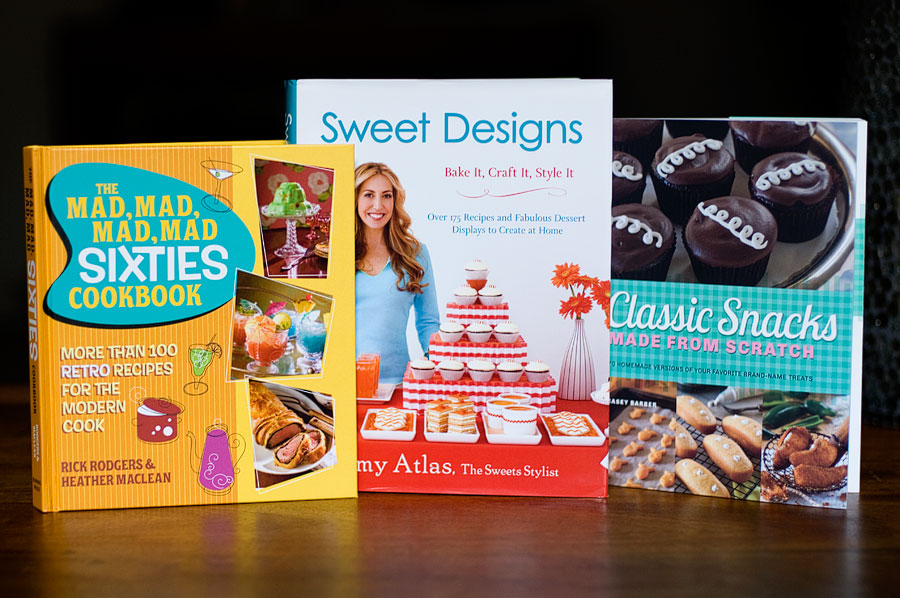 1. The Mad, Mad Sixties Cookbook. This book is just plain fun. I wish I could time travel back to the sixties — and put on my best Joan-from-Mad-Men outfit and throw a killer holiday party. But who needs time travel? This book tells you how to throw a killer sixties party – in 2013!
2. Sweet Designs: Bake It, Craft It, Style It. The profession I sometimes like to fantasize about is being a party planner. For real, I would love it. Give me a theme and a generous budget, and magic could happen. If you are planning a party, this is a must-have book full of ideas and beautiful photographs.
3. Classic Snacks Made from Scratch. Want to make goldfish crackers from scratch? How about Twinkies? Then this it the book for you. I love the idea behind this book – taking all of the treats that we loved as kids and giving us a way to make them from scratch.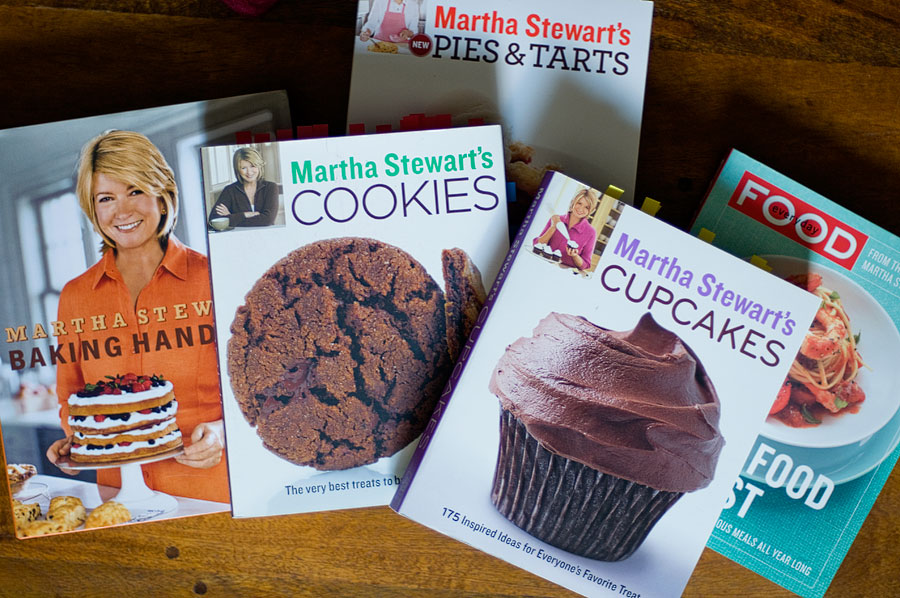 1. Martha Stewart's Baking Handbook.
2. Martha Stewart's Cookies.
3. Martha Stewart's Pies & Tarts.
4. Martha Stewart's Cupcakes.
5. Martha Stewart's Everyday Food: Real Food Fast.
Alright, this is a Martha Stewart love-fest. Her books and recipes are consistently great – that's all there is to it. I've never had a Martha Stewart recipe fail me (and I can't say the same about some other cookbook authors!). Her photography team is also amazing – they produce such simple and beautiful images of each recipe.
PS: There's also a Martha Stewart's Cakes book out – but I forgot to include it in this photo.