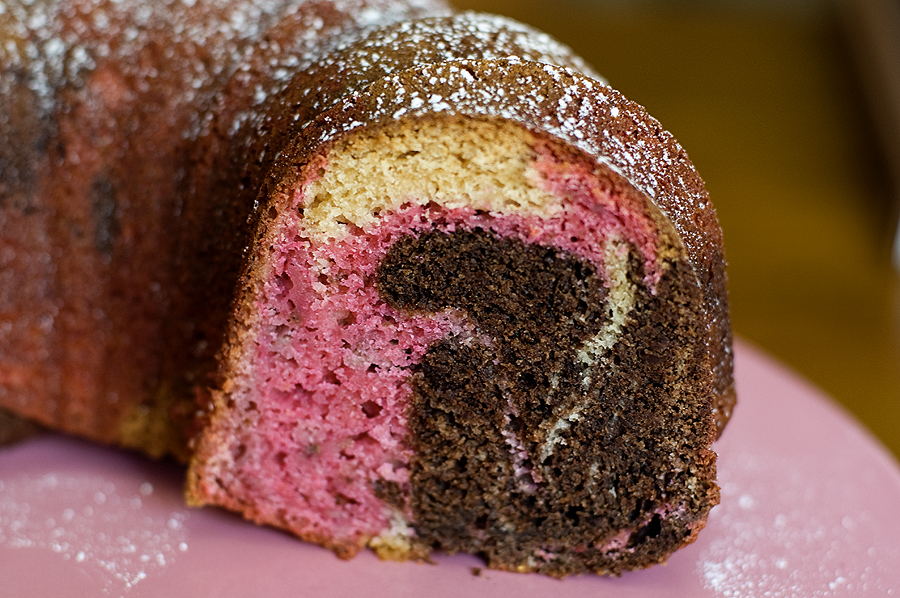 I'm baaaack! Aside from yesterday's post, it's been a while since I've posted and for that, I apologize! Summer is always a busy season and I'm not in the kitchen as much as I'd like to be. I was browsing around on Tumblr & Pinterest (seriously, two of my absolute favorite sites!) and found a photo of neapolitan marshmallows. I swoon over anything neapolitan — pretty color palette and a perfect combination of flavors. I don't, however, love marshmallows. Then I remembered that I had this bundt cake recipe bookmarked for ages and thought I would give it a try. It's a relatively easy homemade cake (no box mixes this time!) – and baking it in a bundt pan makes it even more simple!
Neapolitan Bundt Cake
Recipe source: See You in the Morning
Print Recipe
3-1/2 cups all-purpose flour
1-1/2 tsp baking powder
1-1/2 tsp baking soda
1/2 tsp salt
1 cup unsalted butter, softened to room temperature
2-1/4 cups sugar
4 large eggs
16 oz sour cream
2 tsp vanilla
For chocolate swirl:
6 oz dark chocolate (60-72% cacao), chopped (I used 6 oz. Ghirardelli dark chocolate chips)
1 tsp unsweetened dark cocoa powder
For strawberry swirl:
1/2 cup diced strawberries
1 tbsp strawberry preserves
A few drops of pink or red coloring
1. Preheat oven to 350F and spray a 10-inch bundt pan with non-stick spray.
2. Make chocolate swirl: In the top of a double boiler over simmering water or in microwave, melt the chocolate. When it's completely smooth, add the cocoa powder and stir. Remove from heat and set aside.
3. Sift the flour, baking powder, baking soda, and salt. In the bowl of an electric mixer fitted with paddle attachment, cream the butter until smooth. Scrape down the sides and add the sugar. Beat until smooth and fluffy.
4. Add the eggs, one at a time, beating well after each addition. Scrape down bowl and mix. Add the sour cream and vanilla and beat until just incorporated. Add the dry ingredients in 3 additions. Do not overmix!
5. Pour 1/3 of batter into the chocolate and combine.
6. Fold strawberries and preserves into another 1/3 of batter.
7. Plop large spoonfuls of 3 batters into pan, then use a butter knife to pull through the layers and make swirls.
8. Bake in the center of the oven for about an hour, rotating halfway through. Let cake cool in the pan for a bit and then invert on a wire rack to cool completely. Add a dusting of powdered sugar to the top if you'd like!