Hi everyone! I thought I'd take a quick break in posting recipes and instead tell you about a few new-ish features of With Sprinkles On Top.
There is now a Print Recipe link included in almost every post. Hopefully this will make your lives easier if you ever want to print one of the posts.
If you are looking for something specific, be sure to check the master lists of recipes. I've made an alphabetical list and a categorical list. There is generally a bit of a lag in updating those lists, so recipes from new posts might not be added right away.
Everyone loves frosting, right? I've made a list of my favorite icing recipes. Also, is there a difference between the term "frosting" vs "icing"? I use them interchangeably.
One of the most common questions I get is, "what is your favorite recipe?" I can't pick just one. I had a hard time narrowing it down to twenty five. But here are my twenty-five favorite recipes. I'm sure that list will change over time.
And now, a question for you: is there anything specific you'd like to see on the site? More cupcakes? Less chocolate? More this? Less that? I get a lot of questions about food photography, so I've been thinking about doing a tutorial on that topic (though I am, by no means, an expert!).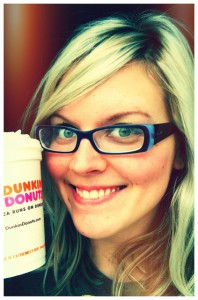 And finally, I thought I'd fill out this survey that I originally read on one of my favorite food blogs, Sugar Plum. I always enjoy learning more about the bloggers behind the blogs — and after maintaining this blog for almost 3 years, I thought I'd share more about me. That's me to the left with my beloved Dunkin Donuts coffee. It's one of the things I miss most about living in Chicago — and quite honestly, I will always love DD coffee more than the drinks found at fancy pants coffee shops. But anyway, on with the ABCs of Annie.
A. Age: 26. Almost 27. My birthday is on August 21… send presents. ;)
B. Bed size: Queen.
C. Chore you hate: Grocery shopping (the irony is not lost on me). I would rather vacuum, dust, clean toilets, or scrub the floors than go to the store.
D. Dogs: Would LOVE to have one.
E. Essential start to your day: Diet Pepsi + Quaker Corn Bran cereal (no milk)
F. Favorite color: Green
G. Gold or silver: It depends.
H. Height: 5'9″
I. Instruments you play: I played piano when I was young.
J. Job title: Unemployed twentysomething with a MPH
K. Kids: Eventually. Maybe. Not now.
L.  Live: Downtown Madison, WI
M. Mom's name: Jeanne
N. Nicknames: Annie itself is a nickname, as my real name is Ann. Other nicknames I've had over the years include Peanut, Annid, and Hannie.
O. Overnight hospital stays: No, but a few trips to the hospital in the middle of the night.
P. Pet peeve: Just one? Habitually lateness. Inattentive drivers. Those little paper inserts in magazines.
Q. Quote from a movie: That rug really tied the room together.
R. Right or left handed: Right
S. Siblings: None
T. Time you wake up: It depends.
U. Underwear: No. I'm not going to discuss my underwear on my baking blog. As GOB would say, COME ON!
V. Vegetables you dislike: Carrots
W. What makes you run late: Usually nothing. I always like to be early or on time.
X. X-rays you've had: Dental; plus a few abdominal X-rays
Y. Yummy food you make: Uh, check out this blog.
Z. Zoo – favorite animal: Not a fan of zoos. But I do like elephants.