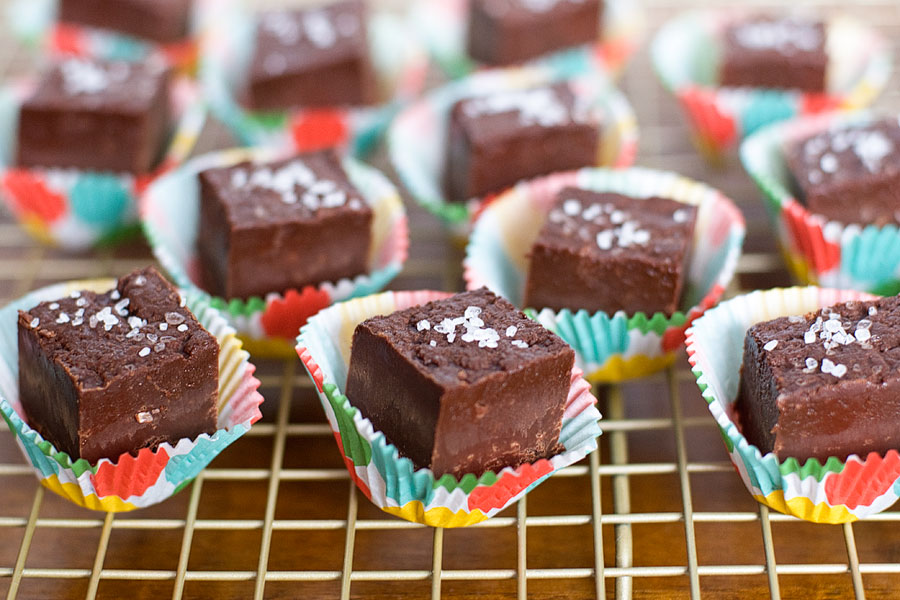 Nutella, you are perfect. If I had a faster metabolism, I would eat Nutella straight out of the jar without abandon. Nutella in fudge form? Taste bud explosion. Nutella fudge paired with sea salt? Taste bud explosion to the max. I love the combination of sweet and salt. I think the salt cuts the sugar and makes it more palatable. Other favorite sweet/salt combinations of mine include chocolate-covered potato chips, movie popcorn plus M&Ms, and Wendy's french fries dipped in a chocolate Frosty (trust me on that one, it's good).
This recipe is super easy. Mix a bunch of stuff together over a double boiler and POOF… fudge awaits!
Nutella Sea Salt Fudge
Recipe source: Cookin' Canuck
Print Recipe
1 (14 oz. ) can sweetened condensed milk
1 teaspoon vanilla extract
8 oz. high-quality bittersweet (60% cacao) chocolate chips
1 cup Nutella, room temperature
3 Tablespoons unsalted butter, room temperature, cut into 1/2-inch pieces
Sea salt, approximately 1/2 tsp
1. Spray the bottom and sides of an 8×8-inch baking pan with non-stick spray. Line the pan with parchment paper, leaving a 2-inch overlap on the sides.
2. In a medium glass or stainless steel bowl, stir together sweetened condensed milk, vanilla, bittersweet chocolate chips, Nutella, and butter.
3. Form a double-boiler by setting the bowl on a medium pot of gently simmering water. The water level should be low enough that the bottom of the bowl does not touch the water. Stir until the chocolate chips are melted and the mixture is smooth, 5 to 7 minutes.
4. Scrape the mixture into the prepared pan, spread the top smooth with a spatula, and sprinkle with sea salt. Refrigerate until the fudge is firm, at least 2 hours.
5. Run a knife under hot water, dry it off, and run it around the edges of the pan to loosen the fudge. Using the overhanging parchment paper, lift the fudge out. Peel off the parchment paper. Cut the fudge into 3/4-inch squares. Store in the refrigerator in an airtight container or wrapped well in plastic wrap and foil.
Makes approximately 50 3/4-inch squares.