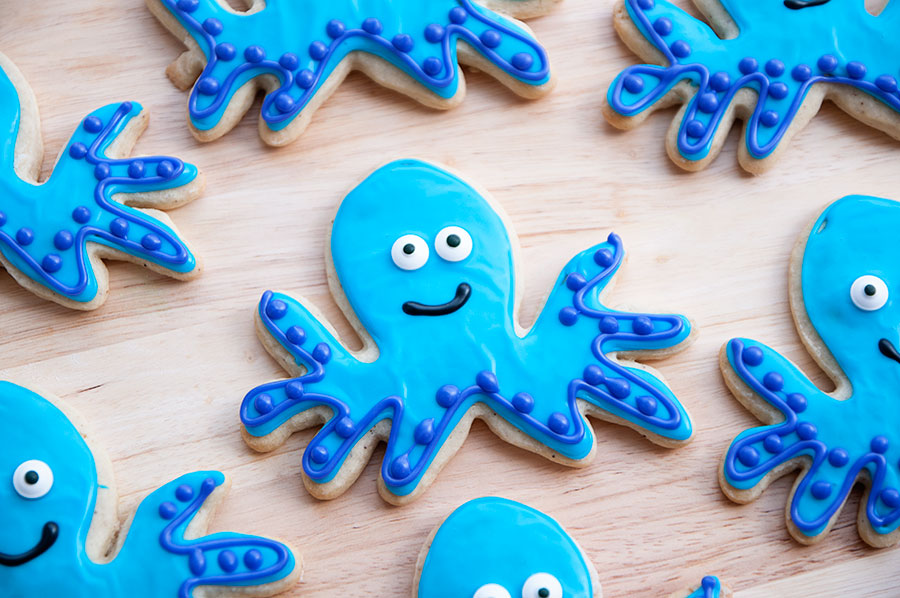 Stop what you're doing right now and watch Ze Frank's True Facts About the Octopus. Just trust me. It's WEIRD and hilarious and you will thank me. You will also realize that octopi are total badasses. And kind of cute.
If you are a new to decorating with royal icing, here are some helpful tips and links:
I used my grandma's sugar cookie recipe, which is listed below.  Another good cut-out cookie recipe can be found at Bridget's wonderful Bake at 350.
I used a royal icing recipe from Annie's Eats, which is listed below.
If you are new to decorating with royal icing, please visit this post by Annie's Eats, which will teach you about outlining and flooding.  Bake at 350 is also a great resource for cookie decorating and ideas (I love Bridget's book, too!).
Here are the specifics on how I made these cookies:
Octopus cookie cutter was purchased on Amazon.
I used Wilton's Sky Blue and Violet gel food colorings. I also used AmeriColor's Super Black to make the smile.
The "eyes" were purchased at Target — they are a Wilton product and can be found in the baking aisle.
I outlined and flooded each octopus with the sky blue icing. After flooding each cookie, drop two "eyes" onto the cookie — do this before the icing has a chance to set.
Once the cookies were dry, I piped the detailing using purple icing and a small round pastry tip. I also piped a smile onto each octopus — but you could have fun with it and give them all different expressions.
Omi's Sugar Cookies
Print Recipe
1 cup butter
1 cup sugar
1 large egg
1/2 teaspoon salt
3 cups flour
1 teaspoon baking soda
1/2 cup sour cream
1 teaspoon nutmeg
Beat butter and sugar. Add egg, sour cream, and nutmeg. Add dry ingredients gradually. Chill the batter overnight or for at least 4 hours. Roll out dough and cut with cookie cutters. Bake at 350F until golden (in true fashion, my grandma didn't give a specific baking time. I baked the cookies for about 8 minutes). The yield will depend on the size of your cookie cutter — I was able to make about a dozen octopi using this recipe.

White Royal Icing
4 cups powdered sugar, sifted
2 Tablespoons meringue powder
5 Tablespoons water
Directions:
Combine all ingredients in the bowl of a stand mixer fitted with the paddle attachment. Mix on low speed until the sheen has disappeared and the icing has a matte appearance (about 7-10 minutes).  Transfer the contents of the mixing bowl to an air-tight container. This will be the stiffest consistency of the icing, and at this point it is still too stiff to use for decorating. Add water a very small amount at a time and stir by hand until fully incorporated. Continue until the icing has reached a consistency appropriate for piping.
Note: you may need to make two batches of this icing, depending on how many cookies you are making.