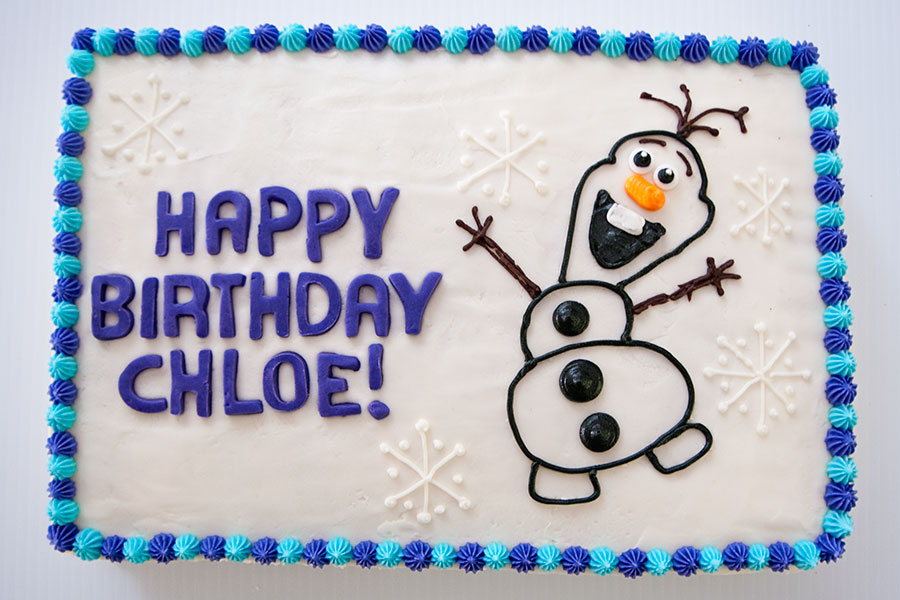 Happy birthday to Chloe! Her grandmother asked me to make Frozen-themed goodies for Chloe's birthday party. I made a batch of these cupcakes — as well as this Olaf cake. I don't have step-by-step instructions for this cake, but below you'll find some bullet points with some tips and hints. Warm hugs from Olaf to you all!
Olaf (from Frozen) Birthday Cake
Print Recipe
I made two 9×13 chocolate cakes. I used box mixes for the cake cause they are reliable and delicious. Any flavor cake would work for this design.
All of the icing used on this cake is the White Buttercream Icing recipe — which you can find on this page. I made three batches to be sure I'd have plenty to work with.
When the cakes have cooled, assemble and frost the entire cake with white buttercream icing.
I piped a border using purple and blue icing. I used Wilton gel colorings — Violet and Sky Blue. I used a small star tip. I don't remember the exact tip #, but many would work for this technique.
I rolled out of a package of purple fondant (Wilton brand) and cut out "Happy Birthday Chloe!" using small alphabet cutters (craft stores sell these, as well as online retailers like Amazon).
I piped Olaf by hand. As a result, I don't have many tips or tricks to offer you. I found a photo online to work from and drew the design into the cake with a toothpick (a good idea in case you make a mistake — you can just smooth the icing over and start again!). I then covered the toothpick sketch with black icing (use a small round pastry trip).
I used store-bought chocolate icing for his arms, eyebrows, and hair. Again, use a small round tip — smaller than the one you used for the outline of Olaf, if possible.
I piped his orange nose on with a round tip, as well as his black buttons.
His eyes are candy eyes — which are a Wilton product I found at Target (craft stores also sell them).
The snowflakes were piped on with a small round tip.
If you have any questions, please let me know and I can try to clarify! I'm sorry that I can't provide exact pastry tip numbers — I forgot to write them down when I was making the cake!