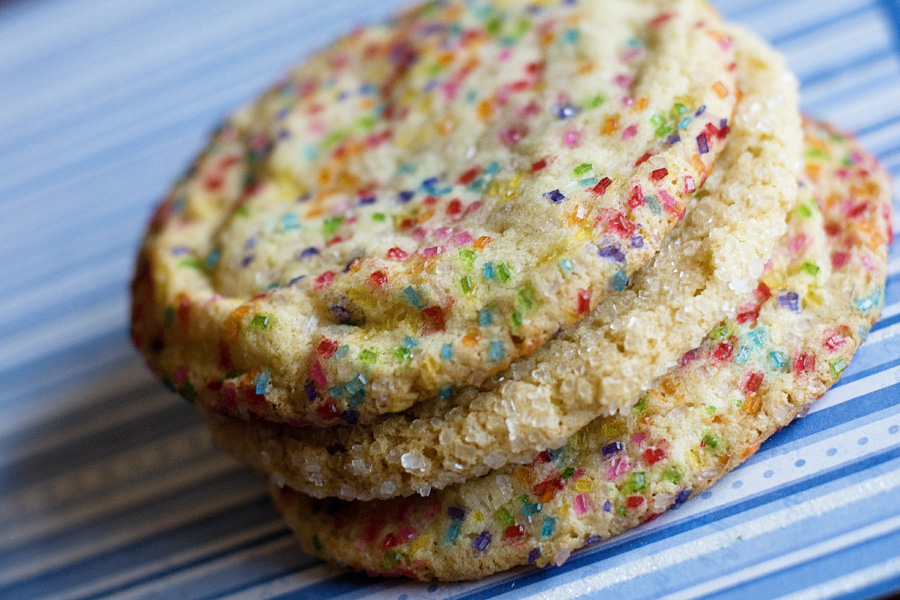 I'm currently in graduate school and I'm in the middle of finals week. Fun, right? ;) I wanted to bake something for my study group this week and couldn't quite decide what to make. I wanted something simple – because I don't have a whole lot of time to dedicate to my baking projects right now. I also wanted something that I knew everyone would enjoy. This delicious recipe for sugar cookies stood out immediately. Sugar cookies are definitely a favorite of mine. Sugar + butter. What could be better?
Old-Fashioned Sugar Cookies
Recipe Source: Martha Stewart Cookies
Print Recipe
3 cups all-purpose flour
1 teaspoon baking soda
1/4 teaspoon coarse salt
1-3/4 cups granulated sugar
1/4 cup packed light brown sugar
1 tablespoon finely grated lemon zest
1 cup (2 sticks) unsalted butter, at room temperature
2 large eggs
1 tablespoon fresh lemon juice
+ sanding sugar for sprinkling
1. Preheat oven to 350F. Sift together flour, baking soda, and salt.
2. Put sugars and zest in the bowl of an electric mixer fitted with the paddle attachment. Mix on medium speed for 30 seconds. Add butter; mix until pale and fluffy, about 1 minute. Mix in eggs one at a time, and then the lemon juice. Reduce speed to low; gradually mix in the flour mixture.
3. Using a 2-inch ice cream scoop, drop dough onto parchment paper-lined baking sheets, spacing 3 inches apart. Flatten cookies slightly; sprinkle with sanding sugar. Lightly brush with a wet pastry brush; sprinkle with more sanding sugar.
4. Bake cookies until golden, about 15 minutes, rotating sheets halfway through. Transfer cookies to wire racks using a spatula; let cool completely. Cookies can be stored in airtight containers at room temperature for up to three days.
Notes:
– I didn't have a lemon, so I left out the lemon zest. I also used store-bought lemon juice, instead of fresh lemon juice. They are still delicious!
– These cookies will be HUGE.
– I rolled the dough in sugar, then placed it on the cookie sheet – instead of doing the brush-with-a-wet-pastry-brush thing. Also, feel free to use colored sanding sugars. I ran out of white, so I used a colored mixture and I think they are so pretty!