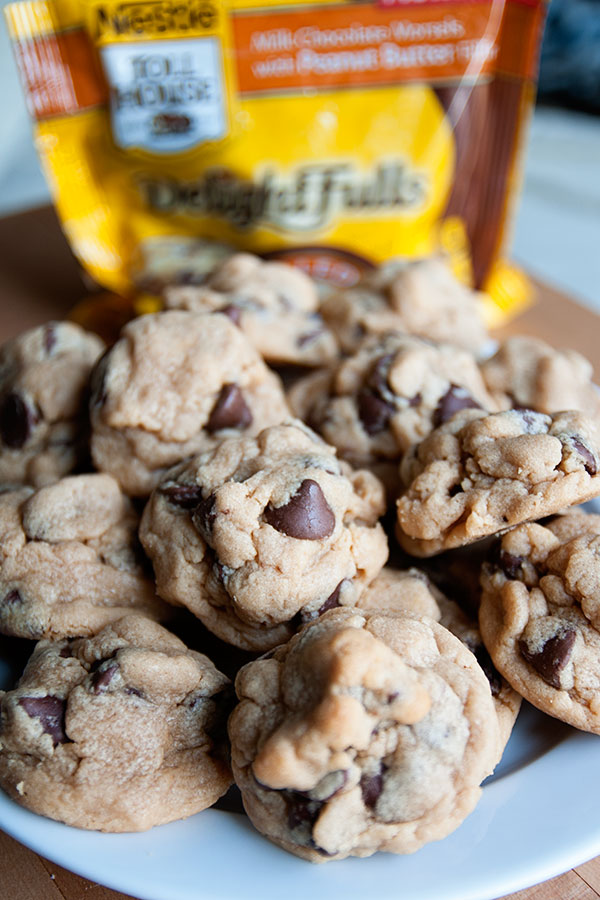 OMG. You guys. Have you tried Toll House's DelightFulls? They are amazing. A chocolate chip with peanut butter inside the chocolate chip. I know, right? I saw them in the baking aisle at my grocery store and a few things ran through my mind: why were these not invented sooner? I hope they are as good as they sound! And honestly… America, effff yeah. Cause where else but the land of excessive and ridiculous foods would you find these?
Good news though — they are even better than you may have imagined. They make other flavors as well — mint, raspberry, and one more that I'm forgetting. I'm not being paid or compensated by Nestle to promote these. They're just really, really good!
OMG Peanut Butter Cookies
Recipe adapted from: Sally's Baking Addiction
Print Recipe
1/2 cup salted butter, softened to room temperature
1/2 cup light brown sugar
1/4 cup granulated sugar
1 large egg
3/4 cup creamy peanut butter
1 teaspoon vanilla extract
1/2 teaspoon baking soda
1-1/4 cups all-purpose flour
1/2 cup honey roasted peanuts [I left these out]
1 cup Nestle Toll House Peanut Butter DelightFulls
1. In a large bowl, using a hand-held mixer or stand mixer with paddle attachment, cream the butter and sugars together on medium speed. Mix in the peanut butter, egg, and vanilla.
2. Slowly mix in the baking soda and flour. Do not overmix.
3. Fold in the peanuts, peanut butter cups, and peanut butter chips. Chill the dough for at least 30 minutes.
4. Remove dough from the refrigerator. Allow the dough to sit at room temperature for 10 minutes so you can easily roll it. Preheat oven to 350 degrees.
5. Drop chilled dough by tablespoonfuls onto parchment-lined cookie sheets. Gently press down to slightly flatten. Bake for 8-9 minutes. Cookies will be soft and may appear undone. They will firm up as they cool. Allow to cool completely on a wire rack.
Makes 2-3 dozen cookies.