I call my grandma "Omi". And I have "inherited" her recipe book. Her Christmas cookies were legendary and I'm pretty excited to have all of her recipes in my gritty little hands. My grandma is still alive, but Alzheimer's has taken its toll on her, so she doesn't remember much and she certainly doesn't bake like she used to. The best part about making these cut-out cookies was that my apartment was instantly filled with the smell of my grandma's house – it was wonderful. Many people say that out of all the senses, scent conjures up the strongest emotional response. I definitely think this is true.
I couldn't wait until Christmas to make her cut-out cookies, so I decided to celebrate all things spring instead.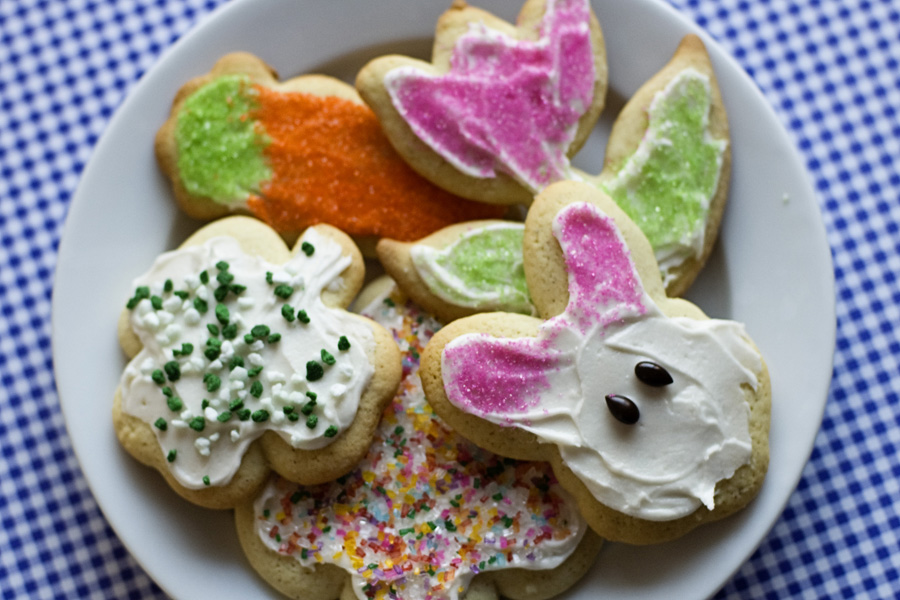 Omi's Sugar Cookies
Print Recipe
2 cups butter
2 cups sugar
2 large eggs
1 teaspoon salt
6 cups flour
2 teaspoons baking soda
1 cup sour cream
2 teaspoon nutmeg*
Beat butter and sugar. Add eggs, sour cream, and nutmeg. Add dry ingredients gradually. Chill the batter overnight or for at least 4 hours. Roll out dough and cut with cookie cutters. Bake at 350F until golden (in true fashion, my grandma didn't give a specific baking time. I baked the cookies for about 8 minutes).
*The nutmeg definitely gives these cookies a distinct flavor. Mike's comment after trying one was "wow, these are really good, but I can't put my finger on what tastes different". It's the nutmeg. And you either love it or hate it. My mom is not a fan, so my grandma would always bake a separate batch of "Jeanne's cookies" – sans nutmeg.
Omi's Frosting
2 tablespoons shortening
1 tablespoon butter
1 teaspoon vanilla extract
1/4 teaspoon salt
5 tablespoons scalded milk
3 cups (or more) powdered sugar
Beat all ingredients together besides the powdered sugar. Gradually add the powdered sugar until you get a smooth and creamy consistency.