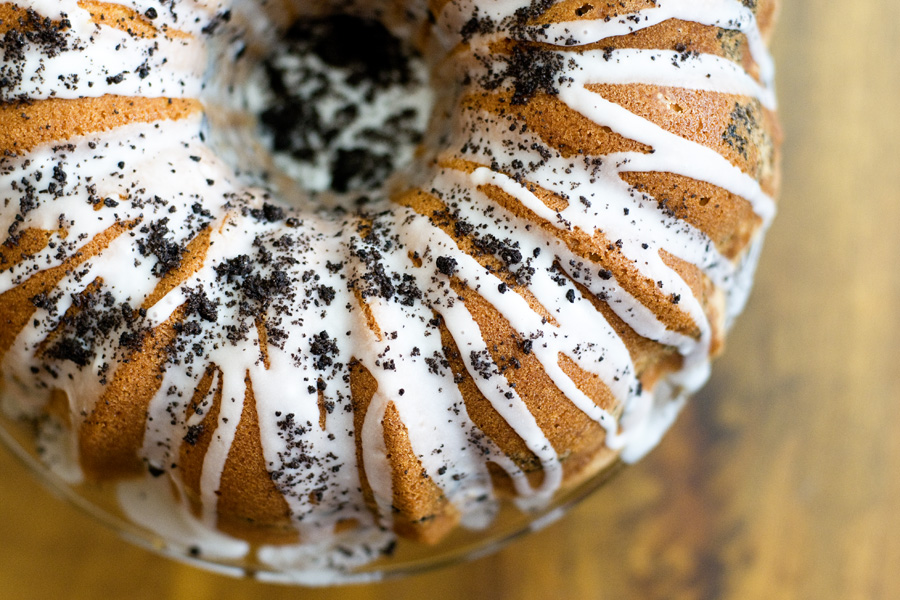 I saw this recipe in a Paula Deen magazine and instantly squealed with joy. Oreo cookies + pound cake + Paula Deen? Seriously.
Oreo Cookie Pound Cake
Recipe source: Paula Deen
Print Recipe
1-1/4 cups butter, softened
3 cups sugar
6 large eggs
1 Tablespoon vanilla extract
3 cups all-purpose flour
1 cup heavy whipping cream
25 Oreo cookies, crushed
2 cups powdered sugar
3 Tablespoons whole milk
1. Preheat oven to 325F. Spray a 12 or 15 cup fluted pan with nonstick baking spray.
2. In a large bowl, beat butter and sugar at medium speed until fluffy. Add eggs, one at a time, beating well after each addition. Beat in vanilla. Gradually add flour alternately with cream, beginning and ending with flour, beating until just combined after each addition. Spoon half of batter into prepared pan. Top evenly with half of crushed cookies; spoon remaining batter over cookies. Top with remaining crushed cookies. Bake for 1 hour and 10 minutes to 1 hour and 20 minutes, or until a tester comes out clean. Let cool in pan for 10 minutes. Remove from pan and cool completely on a wire rack.
3. In a small bowl, whisk powdered sugar and milk until smooth. Drizzle glaze over cooled cake and garnish with cookie crumbs.