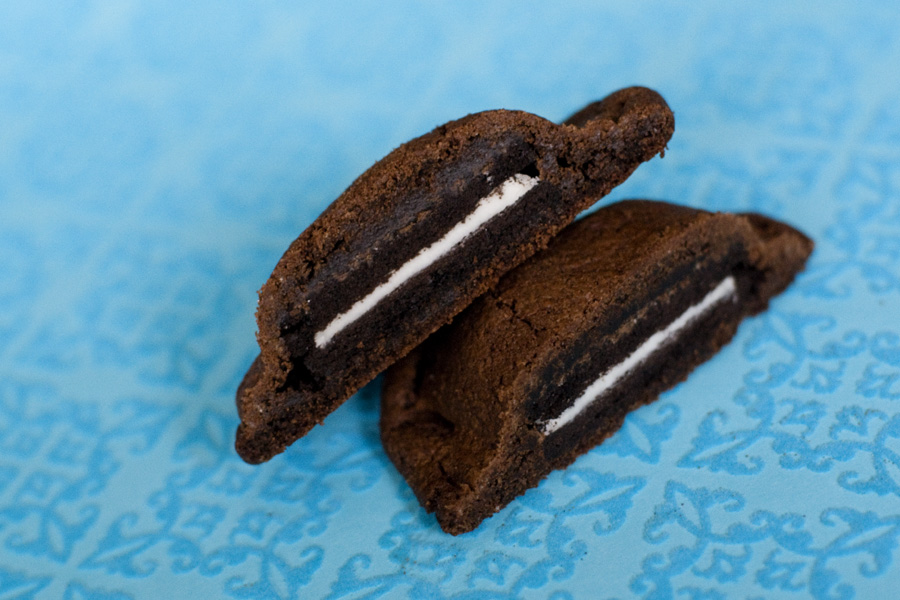 Oreos! They will always be one of my biggest guilty pleasures. And those of you that read this blog regularly know that I'm a big, big fan of the little chocolate sandwich cookies! I'm also a big, big fan of Bake It in a Cake, a food blog dedicated entirely to baking items (candies, cookies, etc) in cake. Check it out, it's fabulous.
So to combine my love of Oreos and my love of baked goods within baked goods, here's the recipe for Oreo stuffed cookies!
Oreo Stuffed Double Chocolate Cookies
Recipe source: Sugar Plum
Print Recipe
1 cup all purpose flour
1/3 cup unsweetened cocoa powder
3/4 teaspoon baking soda
1/4 teaspoon salt
1/2 cup unsalted butter, softened
1/2 cup granulated sugar
1 teaspoon vanilla extract
1 large egg
3/4 cup semisweet chocolate chips, melted
14 Oreos
1. Heat oven to 350 degrees F. Line cookie sheets with parchment paper.
2. In a medium bowl, sift together flour, cocoa powder, baking soda and salt.
3. In a large mixing bowl, using a mixer on medium speed, beat together butter and sugar until creamy – about 1-2 minutes. Beat in vanilla and egg until combined. Reduce mixer speed to low and beat in dry ingredients until combined. Beat in melted chocolate chips until combined.
4. Divide dough into 14 balls. Flatten a ball in the palm of your hand and place an Oreo in the center; evenly wrap dough around Oreo. Repeat process with remaining dough and Oreos.
5. Place balls on sheet pans and bake 10 minutes or until puffy and set. Transfer cookies to wire racks to cool.