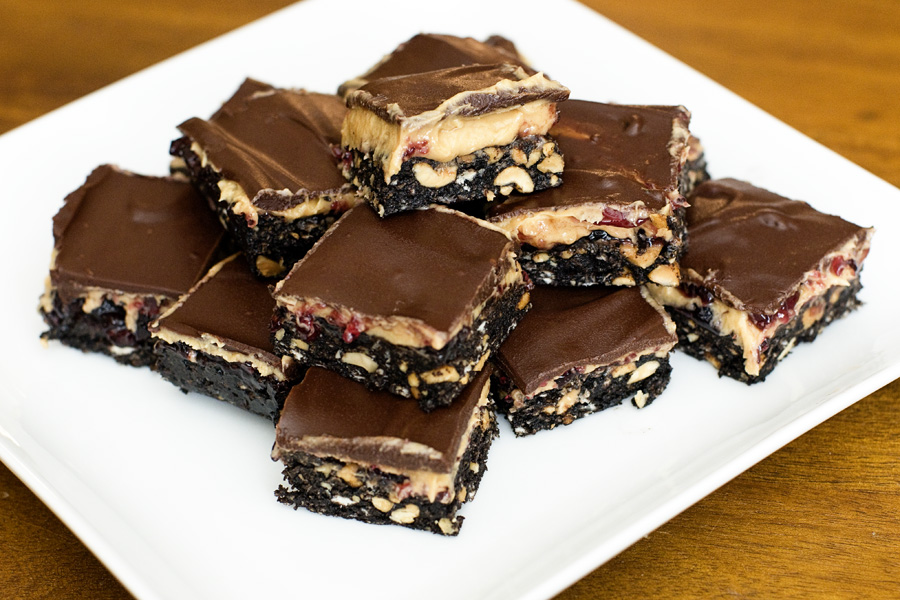 I had mixed feelings about posting this recipe. Not because it's not a good recipe or because the bars turned out badly — but instead because I didn't like them! I always think that I should only post things on my blog that I would endorse or rave about. I decided to post these anyway because some people out there would love these — even if I don't. They were too rich and too gooey (which is saying something, because I belong to the camp of people that loves gooey, ooey baked goods!). I think kids would enjoy these bars because it's like a peanut butter and jelly sandwich, in condensed form!
PB&J Chocolate Bars
Recipe source: Food Network Magazine
Print Recipe
For the base:
1 stick unsalted butter
1/3 cup granulated sugar
1/3 cup unsweetened cocoa powder
1 large egg, beaten
1 sleeve saltine crackers, finely crushed
3/4 cup finely chopped roasted peanuts
For the filling & glaze:
1/4 cup grape jelly
7 Tablespoons plus 1 teaspoon unsalted butter, softened
1/3 cup creamy peanut butter
1/2 cup powdered sugar
4 oz. semisweet chocolate, chopped
1. Make the base: line a 8-inch square baking pan with foil, extending it over the sides. Put the butter in a medium heatproof bowl; position the bowl over a saucepan of barely simmering water (use a double boiler for this step if you have one!). Once the butter melts, stir in the sugar and cocoa. Whisk in the egg; cook, whisking, until the mixture is warm and the consistency of hot fudge (about 5 minutes). Remove from heat; mix in the saltine crumbs and peanuts. Press the crust into the pan. Set aside the saucepan of water.
2. Make the filling: Spread the jelly over the crust in the pan; place in freezer for a few minutes. Beat 5 Tablespoons plus 1 teaspoon butter, the peanut better, and powdered sugar with a mixer until light. Spread over the jelly layer; return to the freezer while you make the glaze.
3. Place the chocolate and the remaining 2 Tablespoons butter in a heatproof bowl; set over the pan of simmering water and stir until the chocolate is melted. Remove from the heat; stir until smooth. When cool, but still runny, spread the glaze over the chilled peanut butter layer. Freeze for another 30 minutes.
4. Bring the bars to room temperature. Use the foil flaps to remove the bars from the pan. Cut into squares.