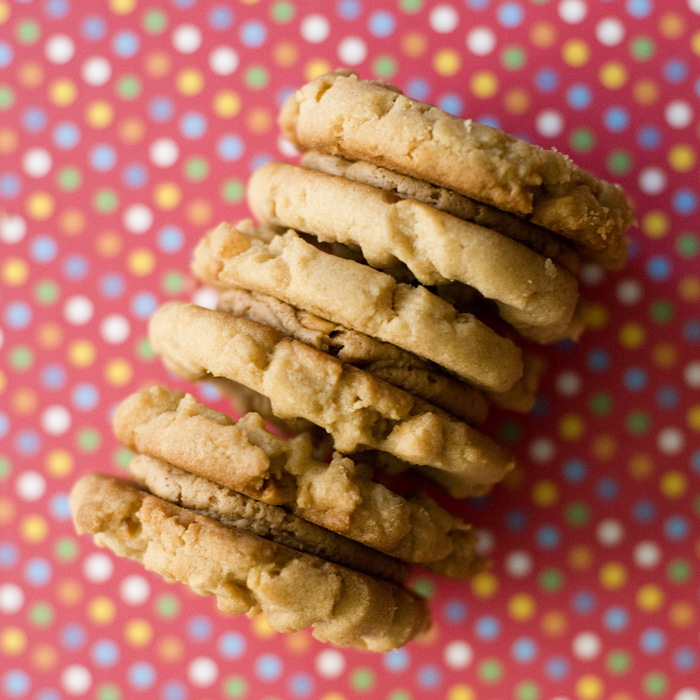 These are good. Like, really good. And check out the oddball ingredient of the day in this recipe: cumin!

Peanut Butter Cream Sandwich Cookies
Print Recipe
Cookies:
1/2 cup chunky peanut butter
1/2 cup shortening
1 cup packed brown sugar
1 egg
1 tsp. vanilla
1 tsp. baking soda
1/8 tsp salt
1-1/4 cups all-purpose flour
1. Preheat oven to 350F.
2. In a bowl beat peanut butter and shortening with electric mixer on medium speed for 30 seconds. Add brown sugar, egg, and vanilla. Beat until combined, scraping sides of bowl. Beat in baking soda, salt, and as much flour as you can. Using a spoon, stir in any remaining flour.
3. Using a level teaspoon, form dough into balls. Place 1-1/2 inches apart on ungreased or parchment-lined cookie sheets. Flatten by making crisscross marks with a fork.
3. Bake 7 to 8 minutes or until edges are lightly browned. Cool on cookie sheet for 1 minute. Transfer to wire rack for further cooling.
Peanut Cream Filling:
3/4 cup chunky peanut butter
3/4 cup marshmallow creme
3 Tablespoons milk
3/4 tsp ground cinnamon
1/4 tsp cumin
3 Tablespoons powdered sugar
1. Whisk together all of the ingredients except the powdered sugar.
2. Gradually whisk in the powdered sugar.
3. Spread 1 teaspoon of the filling on flat sides of half of cookies; top with remaining cookies. Makes about 4 dozen sandwich cookies.