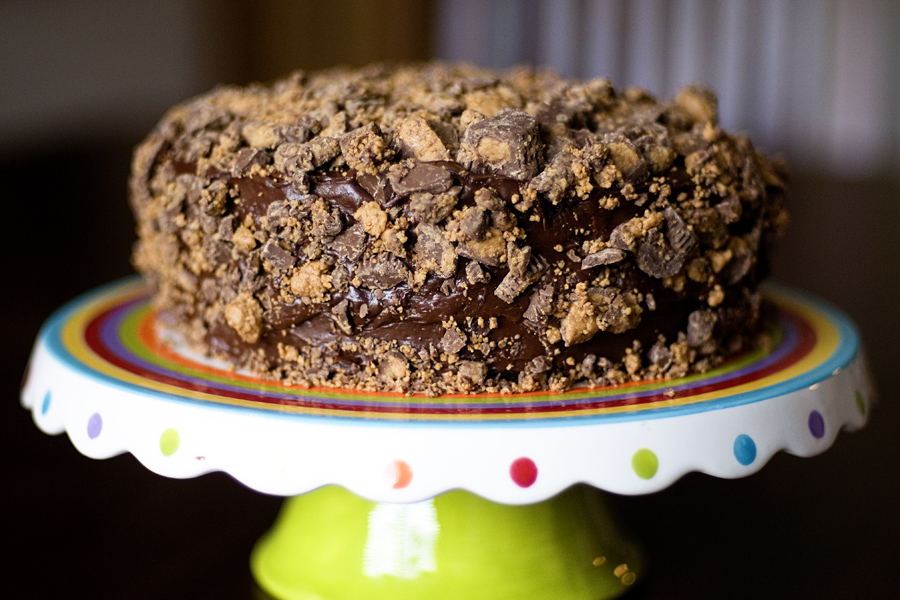 A friend's birthday was yesterday so I made him a peanut butter cup cake. It was delicious! I'm a huge fan of anything having to do with peanut butter, so it was heaven. Nothing was homemade on this one, but here's what I did to create the peanut buttery goodness:
1. Bake two 8″ or 9″ chocolate cakes (use a box mix, it's so much easier for cakes!). If you'd like, crush up some peanut butter cups and add them to the batter. Bake as directed on the box.
2. Frost the cake with chocolate frosting (again, I used store-bought this time).
3. Use a food processor to chop up the peanut butter cups and coat the outside of the cake with them. It'll be messy and won't look like a "pretty" cake, but the taste will be well worth it!
*Note: To keep the crushed peanut butter cups on the cake, it helps to refrigerate the cake after you complete it. Otherwise the frosting will tend to droop with the weight of the peanut butter cups.