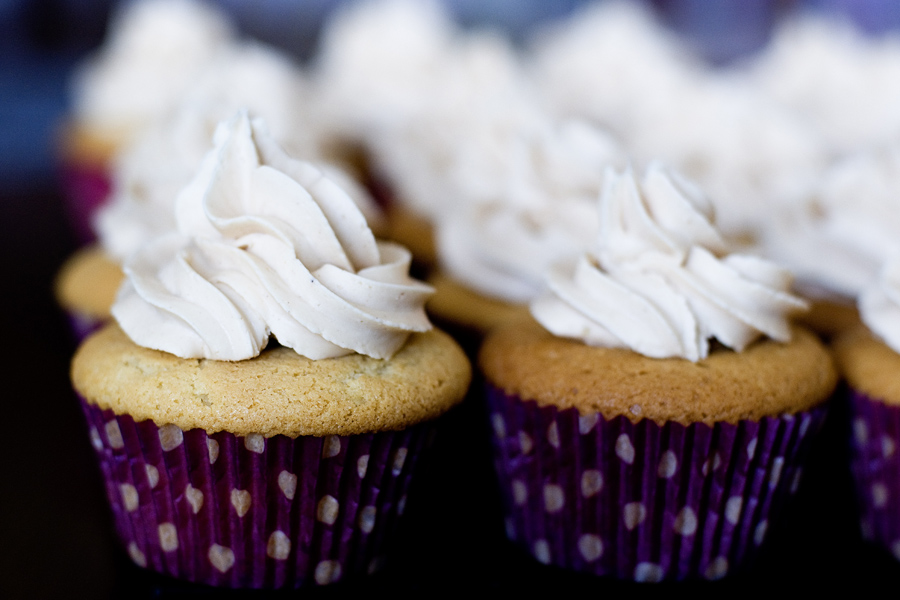 September is back to school month. This means more peanut butter and jelly sandwiches for school lunches! In the spirit of back-to-school (since I'm returning as a student myself), I thought I'd give these cupcakes a try.
Peanut Butter and Jelly Cupcakes
Source: The Mixing Bowl
Print Recipe
1 cup sugar
1/2 cup butter, softened
1/2 cup milk
1/2 cup vegetable oil
1 teaspoon vanilla extract
1 teaspoon vanilla bean/paste**
3 large eggs
2-1/2 cups all-purpose flour
2 teaspoons baking powder
2 teaspoons baking soda
1/2 teaspoon salt
Strawberry or grape jelly
**I didn't have vanilla beans, so I just added an extra teaspoon of vanilla extract. It worked fine!
1. Preheat oven to 350F. Line 24 muffin cups with paper liners. In a large bowl, beat butter with an electric mixer on medium to high for 30 seconds. Add sugar and beat to a nice fluffy consistency. Slowly add milk, oil, and vanilla extract. When all is combined, add eggs, one at a time.
2. In a medium bowl, sift together flour, baking soda, baking powder, and salt. Add dry ingredients to wet ingredients, mixing well.
3. Fill prepared muffin cups 2/3 full with batter. Bake 15-20 minutes or until a toothpick comes out clean. Don't overbake! Cool completely on a wire rack.
4. When cooled, fill a pastry bag with your jelly of choice. Remove a portion of the cupcake with a small circular cookie cutter and fill the hole with jelly (using about 1 teaspoon jelly per cupcake). Top your cupcakes with peanut butter frosting (recipe below).
Peanut Butter Frosting
In a medium bowl, combined 1-1/2 cups shortening, 1/2 cup peanut butter (or more, to taste), and 2 teaspoons vanilla. Beat with an electric mixer on medium to high until creamy. Slowly beat in 3 cups confectioner's sugar and mix until well combined. Add milk, a tablespoon at a time, until the frosting is fluffy and creamy.