After a much needed baking break, I'm baaaack. My marathon week of baking for Valentine's Day wore me out. ;) But I thought I'd make a batch of peanut butter kiss cookies today. The recipe is super easy and if you like peanut butter, these things are PERFECT.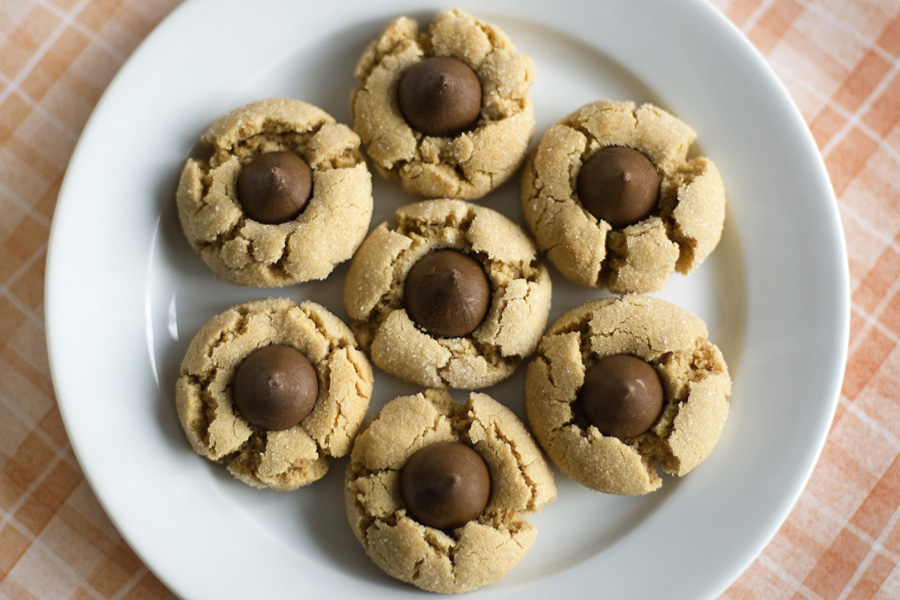 Peanut Butter Kisses
Print Recipe
~ 40 Hershey Kisses
1/2 cup shortening
3/4 cup creamy peanut butter
1/3 cup granulated sugar
1/3 cup packed light brown sugar
1 egg
2 tablespoons milk
1 teaspoon vanilla extract
1-1/2 cups flour
1 teaspoon baking soda
1/2 teaspoon salt
granulated sugar
1. Preheat oven to 375F. Remove foil from Kisses.
2. Beat shortening and peanut butter in large bowl until well-blended. Add 1/3 cup granulated sugar and brown sugar; beat until fluffy.  Add egg, milk, and vanilla; beat. Stir together flour, baking soda, and salt; gradually beat into peanut butter mixture.
3. Shape dough into 1-inch balls. Roll in granulated sugar and place on ungreased cookie sheet.
4. Bake 8-10 minutes or until lightly browned. Immediately press a Kiss into the center of each cookie. Cool cookies on wire rack. Makes about 3-4 dozen.