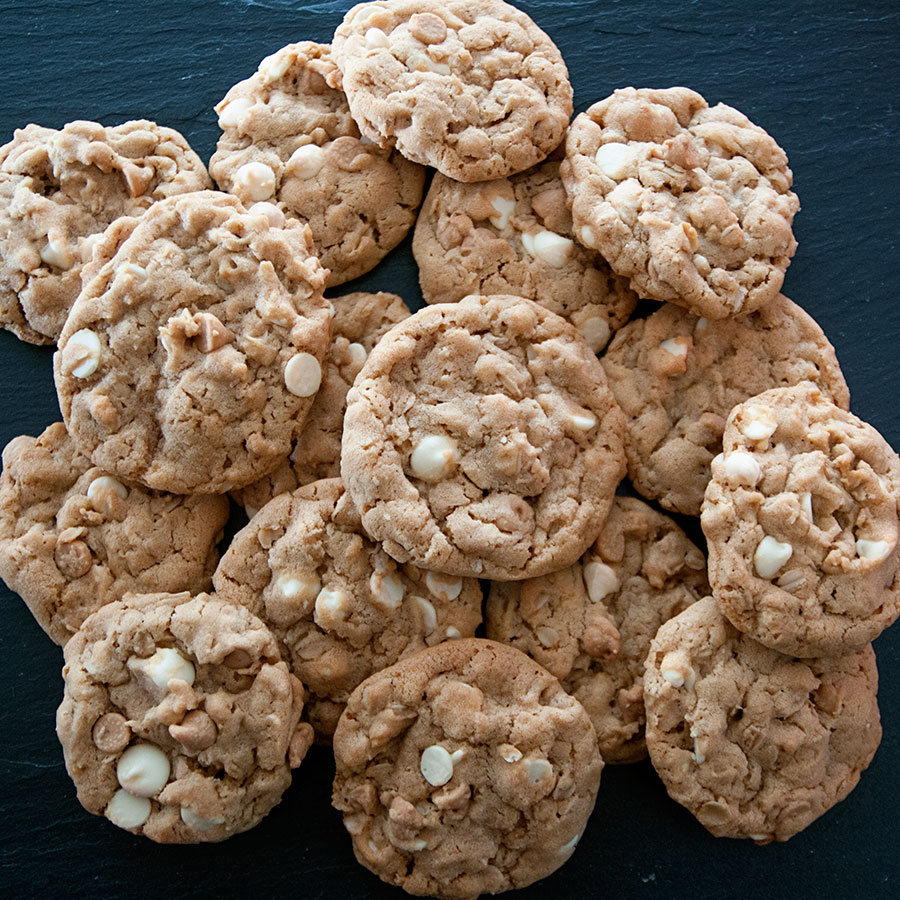 I bring treats to work every Tuesday. Almost always cookies — because cookies are easy to eat and grab on the go. One of the women I work with hates chocolate, so I made these — incorporating all good things (peanut butter! oatmeal! white chocolate!) besides chocolate. Hope all of my American readers had a great holiday weekend!
Peanut Butter Oatmeal White Chocolate Cookies
Recipe source: averiecooks.com
Print Recipe
Yield: 22 to 24 cookies
1/2 c unsalted butter
1/3 c creamy peanut butter
1 c light brown sugar, packed
1/2 c granulated sugar
1 egg + 1 yolk
2 teaspoons vanilla extract
1 1/4 c all-purpose flour
1 c old fashioned whole oats
1/2 teaspoon baking soda
3/4 c white chocolate chips
1/2 c peanut butter chips
1. Preheat oven to 325F. In a medium-sized microwave safe bowl, melt the butter and peanut butter together. This step did not take long on my microwave – about 30-45 seconds. Watch it carefully!
2. Add the brown and white sugar to the melted butter and peanut butter mixture and stir. Set this aside so it can cool to room temperature.
3. Add the egg + yolk, add the vanilla extract, and stir.
4. Add the flour, oats, baking soda and stir.
5. Add in the white chocolate chips and peanut butter chips; stir.
6. Roll out 1-1/2 Tablespoon-sized balls of dough and place onto a parchment-lined cookie sheet. These cookies will spread a little bit, so space them about 2 inches apart.
7. Bake about 10-12 minutes. Note: I baked mine for 15 minutes because I wanted to be sure that they were cooked. If you like underdone cookies, bake for less time. Cool the cookies on wire racks.
Makes about 24 cookies.