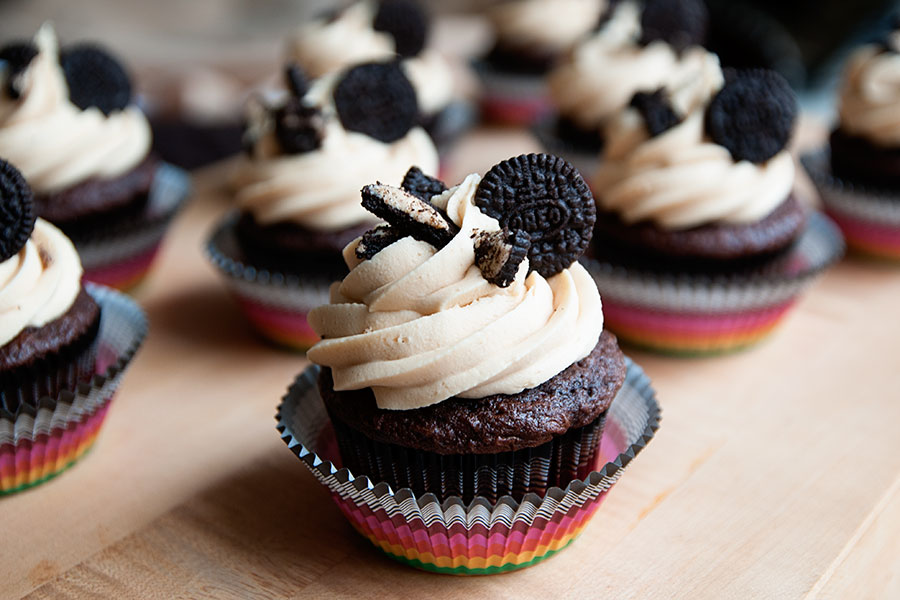 My friend Molly gave me a box of peanut butter mini Oreos (along with alcohol and more Oreos for my birthday; she knows me so well!) and I decided to incorporate them into a batch of cupcakes! These are simple and very much semi-homemade.
Peanut Butter Oreo Cupcakes
Print Recipe
1 box chocolate cake mix (plus required oil, eggs)
1 batch of peanut butter frosting (recipe below)
1 box peanut butter mini Oreos
1. Make a batch of chocolate cupcakes according to box directions. Allow the cupcakes to cool entirely.
2. Make a batch of peanut butter frosting:
1 cup butter, softened
1 cup creamy peanut butter
1/4 cup whole milk
1 teaspoon vanilla extract
6 cups powdered sugar
In a large bowl, beat butter and peanut butter at medium speed with a mixer until creamy. Add milk and vanilla, beating until combined. Gradually add powdered sugar, beating until smooth.
3. Using a decorative pastry tip, pipe the icing onto each cupcake. Garnish with mini Oreos. Crush some of the Oreos and sprinkle onto each cupcake.