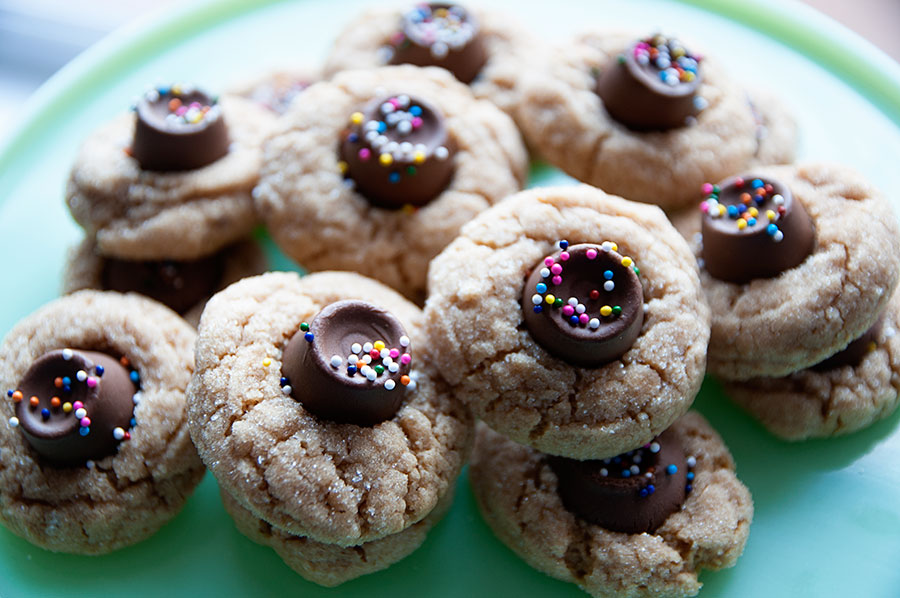 These cookies are a nice twist on the classic peanut butter blossom cookie — you know, the peanut butter cookie with the Hershey Kiss on top. The peanut butter blossom is a holiday staple and one of my favorites — but oh my, the addition of a Rolo instead of a Kiss? YESSSSSS. Plus… a few rainbow sprinkles never hurt anyone. If you make these for the holidays, try using red and green sprinkles instead!
Peanut Butter + Rolo Cookies
Recipe source: Julia's Album
Print Recipe
1/4 cup creamy peanut butter
2 tablespoons unsalted butter, room temperature
1/2 cup brown sugar
1 egg
1/2 teaspoon pure vanilla extract
3/4 cup all-purpose flour, sifted (I didn't sift – and the cookies still worked!)
1/2 teaspoon baking powder
1/8 teaspoon salt
1/6 cup granulated sugar for coating
18 Rolos
Sprinkles (optional)
1. Preheat oven to 350 degrees. Using an electric mixer, cream peanut butter and butter in a mixing bowl until smooth. Add brown sugar; beat until combined. Add eggs and vanilla, and continue beating until creamy.
2. In a separate bowl, whisk together flour, baking powder, and salt. Gradually add dry ingredients from step 2 to wet ingredients in step 1, beating on low speed.
3. Prepare baking sheet by lining it with parchment paper or lightly greased aluminum foil.
4. Place granulated sugar on a plate. Roll spoonfuls of cookie dough into balls, rolling each ball between your hands. Roll balls in sugar to coat them completely.
5. Place cookie balls 2 inches apart on a prepared baking sheet. Bake until cookies begin to puff up slightly, about 7 minutes. Remove from oven. Press one Rolo candy in center of each cookie. Return to oven; continue baking for about 5 more minutes, until cookies just turn golden brown and chocolate begins to melt. Remove from oven, sprinkle the melted Rolos with sprinkles, and let the cookies cool at least 10 minutes on baking sheet before transferring cookies to rack to cool completely.
Makes about 2 dozen cookies.