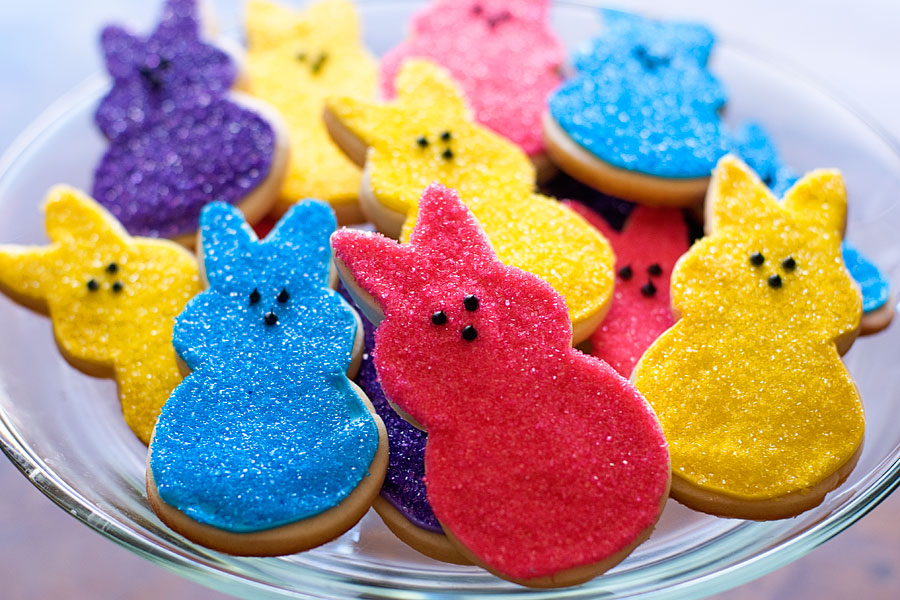 Cuuuuuuute overload! I think these are some of the cutest cookies I've made. Much like Valentine conversation hearts, I have a love/hate relationship with Peeps. They are adorable and a staple of Easter, but they also taste like stale cane sugar with a hint of marshmallow. Not my favorite! What's a girl to do?! Make cookies out of them! I dug out one of my bunny cookie cutters and got to work.
Peep Cookies
Recipe source: Annie's Eats
Print Recipe
Almond Flavored Sugar Cookies
1 cup butter
1 cup powdered sugar
1 egg, beaten
1-1/2 teaspoon almond extract
1 teaspoon vanilla
1 teaspoon salt
2-1/2 cups sifted flour
Directions:
Cream butter. Add powdered sugar. Blend in egg, almond extract, vanilla, salt and flour. Chill dough until firm. Roll to ¼â€ thickness on well-floured surface. Cut with bunny-shaped cookie cutters. Place on greased cookie sheets. Bake at 375° for 8-10 min. Cookies should not brown. Frost and decorate when cool. Yield will depend on size of the cutter you use. I got about 20-24 bunnies.
White Royal Icing
4 cups powdered sugar, sifted
2 Tablespoons meringue powder
5 Tablespoons water
Pink, yellow, purple, blue gel dyes [plus black or chocolate icing for the eyes/nose]
Directions:
Combine all ingredients in the bowl of a stand mixer fitted with the paddle attachment. Mix on low speed until the sheen has disappeared and the icing has a matte appearance (about 7-10 minutes). Transfer the contents of the mixing bowl to an air-tight container. This will be the stiffest consistency of the icing, and at this point it is still too stiff to use for decorating. Add water a very small amount at a time and stir by hand until fully incorporated. Continue until the icing has reached a consistency appropriate for piping.
I divided the royal icing into 4 batches; dyeing one pink, one yellow, one purple, and one blue. I used Wilton's gel colorings. After flooding the bunnies, I dipped each cookie into a matching color of sanding sugar. If you are unfamiliar with working with royal icing (outlining, flooding, etc), please read this tutorial from Annie's Eats.
After the cookies set, pipe small dots of black or chocolate icing onto each cookie for the eyes and nose.