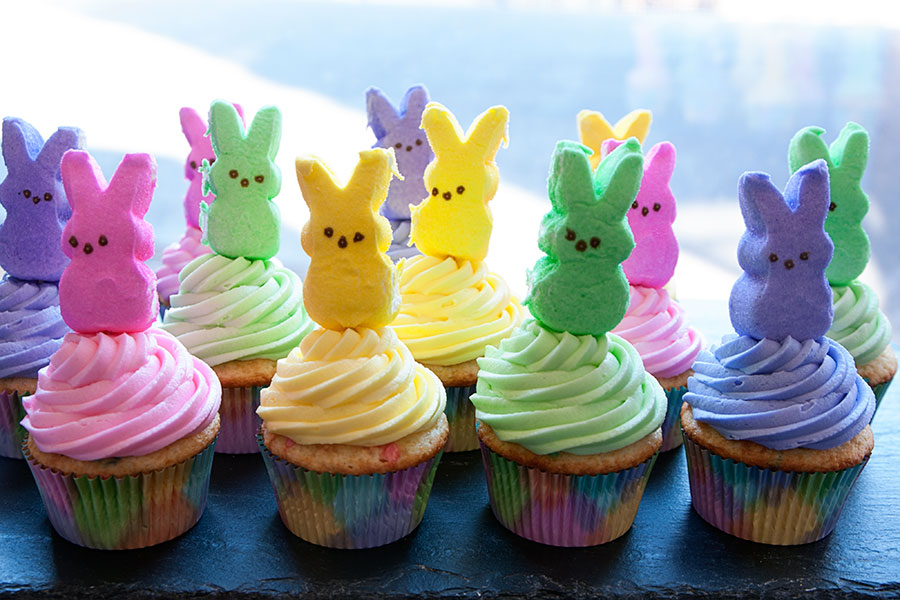 It's officially the season of EASTER! Spring is here, the weather is getting warmer (and by "warmer" I mean that it's in the 40s instead of the 20s), and the big bunny holiday is about two weeks away. I don't celebrate Easter in a traditional sense (not being a Christian really takes the wind out of the Easter Sunday sails for me), but I love the colors, candy, and optimism that this season brings. If you celebrate, I hope that the treats I'll be posting over the next couple weeks give you ideas for your Easter Sunday.
Peeps Cupcakes
Print Recipe
1 box cake mix (plus required oil + eggs)
2 batches of buttercream icing (I'd recommend the white buttercream recipe here)
Pink, yellow, green, and purple food coloring (I used Wilton's gel dyes)
An assortment of Peeps
Toothpicks
Disposable pastry bags
A large star pastry tip
1. Bake cupcakes according to box directions. Allow the cupcakes to cool completely before decorating.
2. Make the batches of buttercream. If you are making 24 cupcakes, you will definitely need two batches. If you are only making 12 cupcakes, you could get away with just one batch.
3. Divide the icing into 4 bowls and color the icing with your food colorings. I used Wilton gel colorings. If you want pastel icing, use just a little bit of coloring. A little will go a long way!
4. Pipe the cupcakes with your colored icings. I used a large star tip for this effect. The yellow swirls of icing sure do remind me of Dole Whip. (Am I right, Disney fans?!)
5. The Peeps are anchored onto the cupcakes with toothpicks.