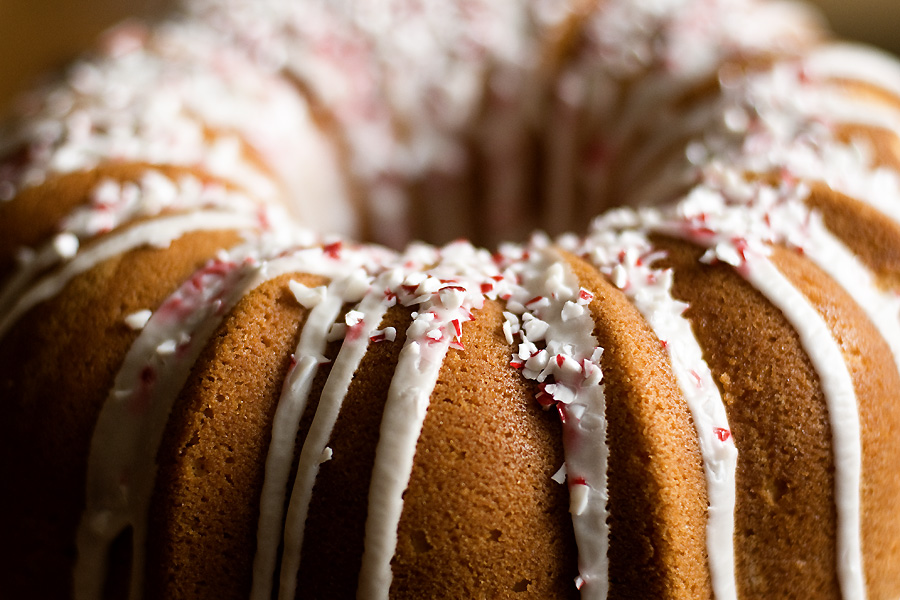 Happy Monday, everyone! I hope you all had a nice weekend. Here's another holiday-inspired recipe — mint lovers are in luck!
Peppermint Mocha Pound Cake
Recipe source: Paula Deen
Print Recipe
1-1/2 cups butter, softened
2-1/2 cups sugar
6 large eggs
1/2 teaspoon peppermint extract
3 cups all-purpose flour
1/2 teaspoon baking powder
1 cup plus 2 Tablespoons peppermint-mocha-flavored coffee creamer
1 cup powdered sugar
Garnish: crushed peppermint candies or candy canes
1. Preheat oven to 325F. Spray a 12 to 15-cup fluted pan with nonstick baking spray.
2. In a large bowl, beat butter and sugar at medium-high speed with a mixer until fluffy. Add eggs, one at a time, beating well after each addition. Beat in peppermint extract.
3. In a medium bowl, combine flour and baking powder. Gradually add to butter mixture alternately with 1 cup coffee creamer, beginning and ending with flour mixture, beating until just combined after each addition.
4. Spoon batter into prepared pan, and bake 1 hour to 1 hour and 10 minutes — or until a tester comes out clean. Let cool in pan for 10 minutes. Remove from pan and cool completely on a wire rack.
5. In a small bowl, combine powdered sugar and remaining 2 Tablespoons coffee creamer, stirring until smooth. Drizzle over cake. Garnish with crushed peppermints.