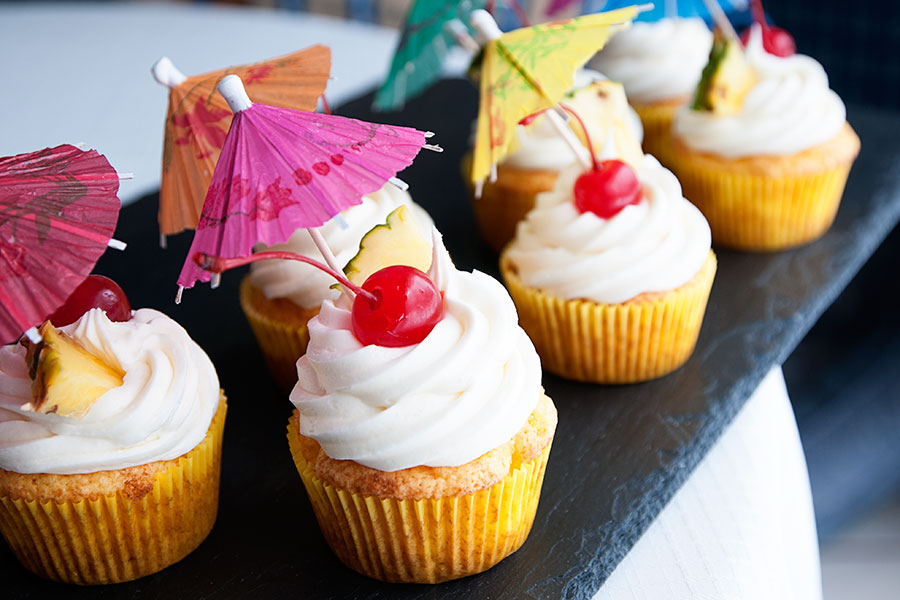 Pineapple is my favorite fruit (despite the fact that it gives me heartburn like whoa) and will forever remind me of family vacations to Hawaii. Aside from pineapple upside-down cakes, I haven't found many baked goods that feature my most beloved fruit. Then I found these!
Over the next week or so I will be featuring tropical treats on my blog. My spring break is next week and I'll be in cold, wintery Wisconsin — but I'll be dreaming about being somewhere warm.
Pineapple Cupcakes
Recipe source: Your Cup of Cake
Print Recipe
For the cupcakes:
1 box yellow cake mix
1/3 cup melted butter, cooled
3 eggs
1-1/4 cup crushed pineapple with juice
2 teaspoons vanilla extract
For the cream cheese frosting:
1/2 cup butter, softened
8 oz. cream cheese, softened
1 teaspoon vanilla extract
3 to 4 cups powdered sugar
Maraschino cherries, pineapple slices, and umbrellas for decoration
1. Preheat oven to 350 degrees and line pans with cupcake liners.
2. Sift cake mix into a small bowl and set aside. In a large bowl combine butter, eggs, pineapple and vanilla extract. Stir in cake mix until smooth.
3. Fill cupcake liners 3/4 full and bake for 17-22 minute or until and inserted knife comes out clean. Allow to cool completely.
4. Make the frosting: beat butter and cream cheese for 2 minutes until smooth. Add vanilla extract and slowly add powdered sugar until you reach your desired consistency. If it becomes too thick, add milk or cream.
5. Pipe onto cooled cupcakes and top with a cherry, pineapple slice, and umbrella.