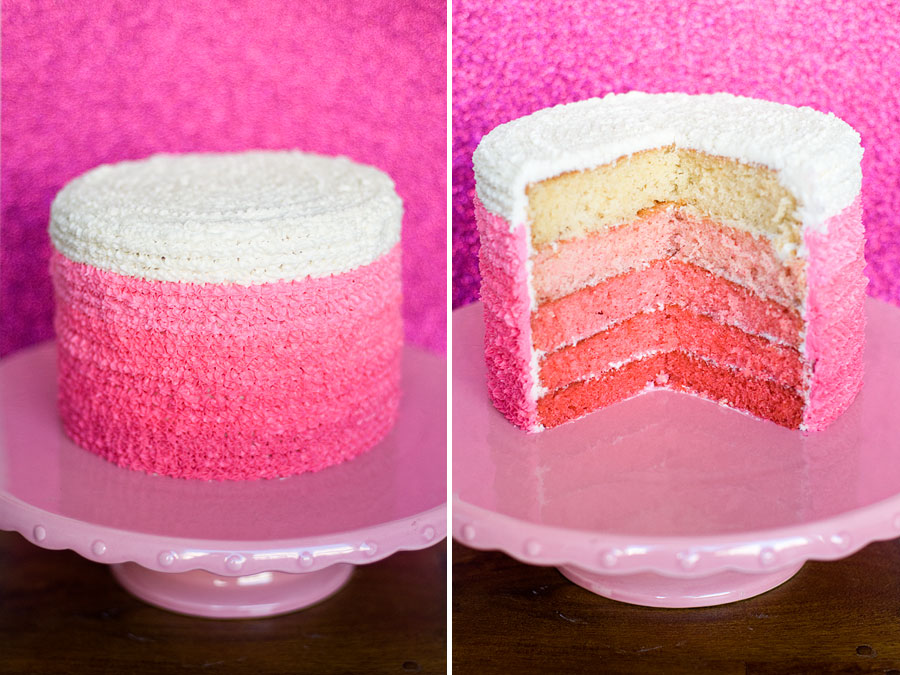 I am obsessed with all things ombre. Ombre is defined as "shaded or graduated in tone; said of color". Ombre seems to be a huge trend right now in everything from baked goods to hair. I made this pink ombre cake and a week later did the same thing to my hair. Yes, I'm sporting some pink hair at the moment. I'm only young once, right?
This cake would be perfect for a Valentine's Day celebration. You could use pink dyes, or do the same thing with shades of red. It's a pretty simple process, just dividing up the cake batter and frosting and dyeing each batch a different shade of pink. I was heavily inspired by all of the amazing ombre cakes I've found on Pinterest. PS: If you haven't joined Pinterest, do it! Seriously! It's every girl's Internet fantasy – a playground of all things pretty, stylish, delicious, and intriguing.
PS: This cake could be easily made with a box mix! No need to go entirely homemade if you don't have the time.
Pink Ombre Cake
Recipe source: Glorious Treats
Print Recipe
Cake:
3-3/4 cups cake flour
3-3/4 teaspoons baking powder
1-1/2 teaspoons baking soda
1-1/2 teaspoons salt
6 eggs
2-1/4 cups sugar
4-1/2 teaspoons vanilla extract
1-1/2 cups vegetable oil
1-1/2 cups buttermilk
*I know what you're thinking: this is a lot of cake! Yes. I wanted to be sure that I had enough batter to make 5 different layers and to have each layer be substantial.
1. Preheat oven to 350*F.
2. In a medium bowl, add cake flour, baking powder, baking soda and salt.  Stir together with whisk, and set aside.
3. In the bowl of an electric mixer, add eggs and beat 10-20 seconds.  Add sugar and continue to beat on medium speed about 30 seconds.  Add vanilla and oil, beat.
4. Reduce mixer speed to low and slowly add about half of the flour mixture.  Add half of the milk, then the rest of the flour and the rest of the milk.  Beat until just combined.  Scrap down the side of the bowl.
5. The batter will be thin.  Divide the batter, as evenly as possible, into 5 smaller bowls. Dye the batter various shades of pink. I started with the darkest shade first and worked my way toward the lighter shades. I used AmeriColor gel colorings — and in addition to pink, I added a few drops of purple into the darkest batch of batter. There's no way to do this step perfectly — just use your eye as a judge and make the best color gradient between the 5 bowls as you can.
6. Prepare cake pans by spraying with non-stick spray. I used 7″ pans. I would not advise using a pan bigger than 7″, though you could probably be OK with 8″ but your cake layers will be a bit more thin. I only own two 7″ pans, so I baked two cakes at a time and washed out the pans between each round of baking.
7. Bake the cakes for about 20-25 minutes, or until a tester comes out clean. Cool the cakes entirely before assembling.
Assembly and icing:

2 cups butter, softened
1/2 teaspoon of salt (only if using unsalted butter)
8 cups powdered sugar
2 teaspoons vanilla
2-3 Tablespoons heavy cream or milk
Cream the butter using an electric mixer fitted with a paddle attachment. Add the salt (if necessary) and mix. Gradually add the powdered sugar, a little at a time, mixing after each addition. Add vanilla and mix thoroughly. Add heavy cream or milk until you reach a spreadable consistency.
1. Using a large knife, level off each cake so that the top surfaces are flat. Assemble cake on a plate or stand, starting with the darkest layer on the bottom. Spread a thin layer of frosting between each layer. Once all of the layers are assembled, spread a crumb coat of icing over the entire cake. [the "crumb coat" is just a very thin, messy layer of frosting — just cover the cake up and you'll make it look more pretty in a bit!]
2. Divide the remaining frosting into 5 batches and again, dye each batch a different shade of pink. I decorated my cake by using a small Wilton star tip. I piped little stars all over the entire cake. Feel free to be creative with how you decorate — there are so many pastry tips that would produce awesome results!