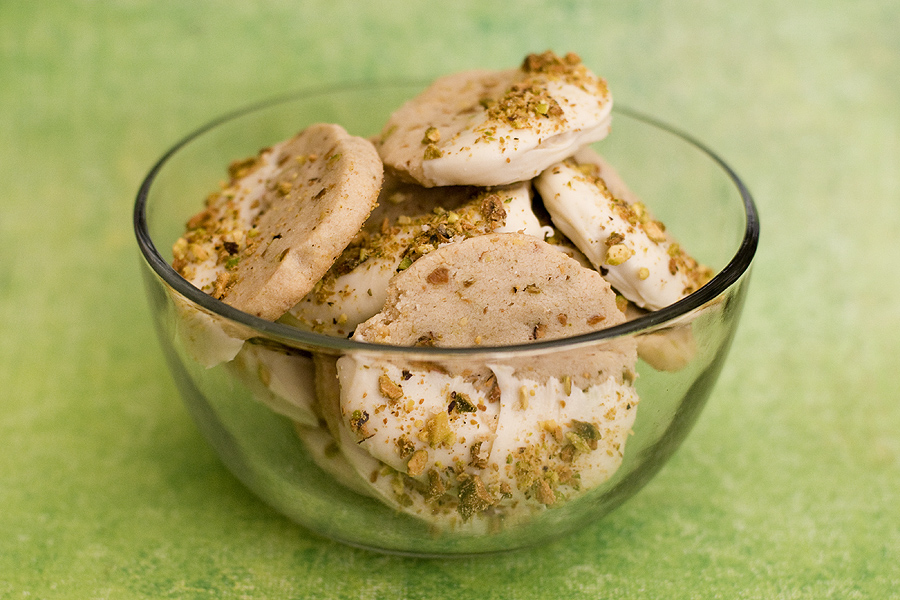 Pistachios are my favorite nut. I would eat them constantly – if could afford to! (side note: why are nuts always so expensive?) Did you know that pistachios are one of the most nutrient dense nuts? Did you know that they are one of the lowest calorie and lowest fat nuts? Did you know that they are one of the highest fiber nuts? Did you know that they are one of the highest antioxidant nuts?
Well you do now. So let's throw all of the good nutritional information out the window and mix them with sugar, white chocolate, and butter!
Pistachio Cookies
Recipe source: Land O' Lakes
Print Recipe
1 cup butter, softened
1/2 cup firmly packed brown sugar
2 cups all-purpose flour
1/4 teaspoon almond extract
1/4 teaspoon vanilla extract
1/2 cup coarsely chopped shelled pistachios
Candy coating:
6 oz. vanilla candy coating (I used white chocolate chips instead)
1 teaspoon shortening
1/2 cup coarsely chopped shelled pistachios
1. Combine butter and brown sugar in large bowl; beat at medium speed until creamy. Reduce speed to low; add flour, almond extract, and vanilla. Beat until well mixed and dough forms. Stir in 1/2 cup pistachios until evenly distributed throughout dough.
2. Divide dough in half; shape each half into a 10-inch log. Wrap each in plastic food wrap; refrigerate until firm (at least 3 hours or overnight).
3. Heat oven to 350F. Cut 1 log at a time, keeping remaining log refrigerated, into 1/4-inch slices with sharp knife. Place onto parchment-lined cookie sheets. Bake for 8-10 minutes, or until edges are lightly browned. Cool 1 minute on cookie sheets and then transfer to a wire cooling rack.
4. While the cookies are cooling, make the candy coating. Place candy coating (or white chocolate chips) and shortening in a small microwave-safe bowl. Microwave for 1 minute, stir, and continue microwaving in 15-second increments until the coating is melted and smooth. Be careful not to burn the coating or chocolate.
5. Place a sheet of waxed paper onto a flat surface. Dip each cookie halfway into the melted candy coating; shake off excess. Place onto waxed paper and immediately decorate with pistachios.