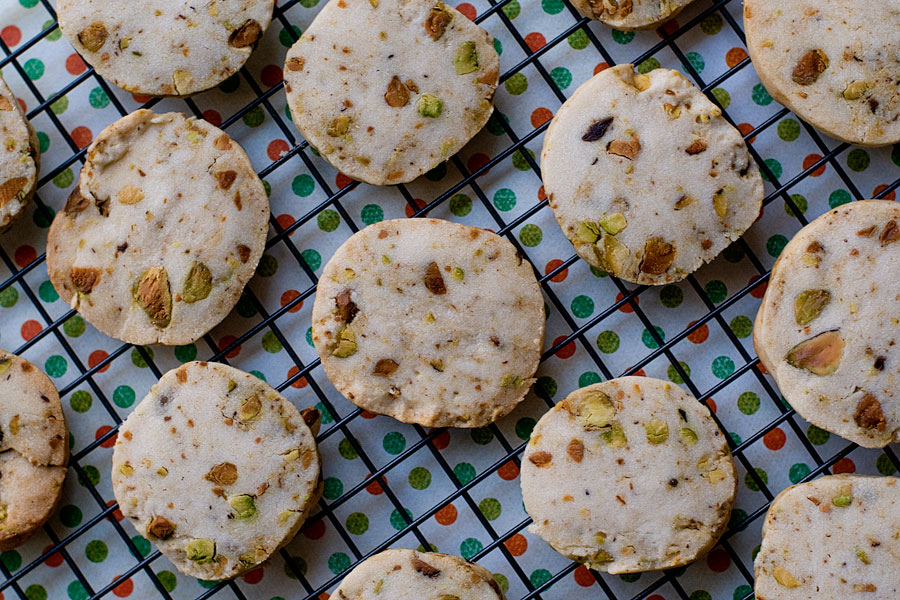 The first treat I made in 2013 were these pistachio shortbread cookies. My mom loves two things in this world: pistachios and shortbread. So naturally, when I saw this recipe in Everyday Food, I made it immediately. [Sidenote: can we all have a moment of silence for Everyday Food? Oh, how I will miss that little magazine] These cookies were featured with strawberry jam in the original recipe, but my mom didn't see the point — as the jam would have "gotten in the way." [a shortbread purist, I suppose!]
If you end up trying these, feel free to spread jam between two cookies to create a yummy sandwich.
Pistachio Shortbread Cookies
Recipe source: Everyday Food, Issue 98
Print Recipe
2 sticks unsalted butter, room temperature
3/4 cup confectioners' sugar
1/2 teaspoon fine salt [I used regular table salt and it worked fine]
2-1/3 cups all-purpose flour, spooned and leveled
1 cup coarsely chopped pistachios
1. In a food processor, process butter, confectioners' sugar, and salt until smooth.  Add flour and pulse until dough forms. Stir in pistachios. Shape dough into two 8-inch-long logs, tightly wrap in plastic, and freeze until firm, 30 minutes (or up to 1 month).
2. Preheat oven to 350F, with racks in upper and lower thirds. Cut dough into 1/4-inch slices and transfer to parchment-lined baking sheets. Bake until cookies are set and barely golden at edges — about 10 to 15 minutes. Let cool completely on sheets on wire racks.
Makes a couple dozen cookies.