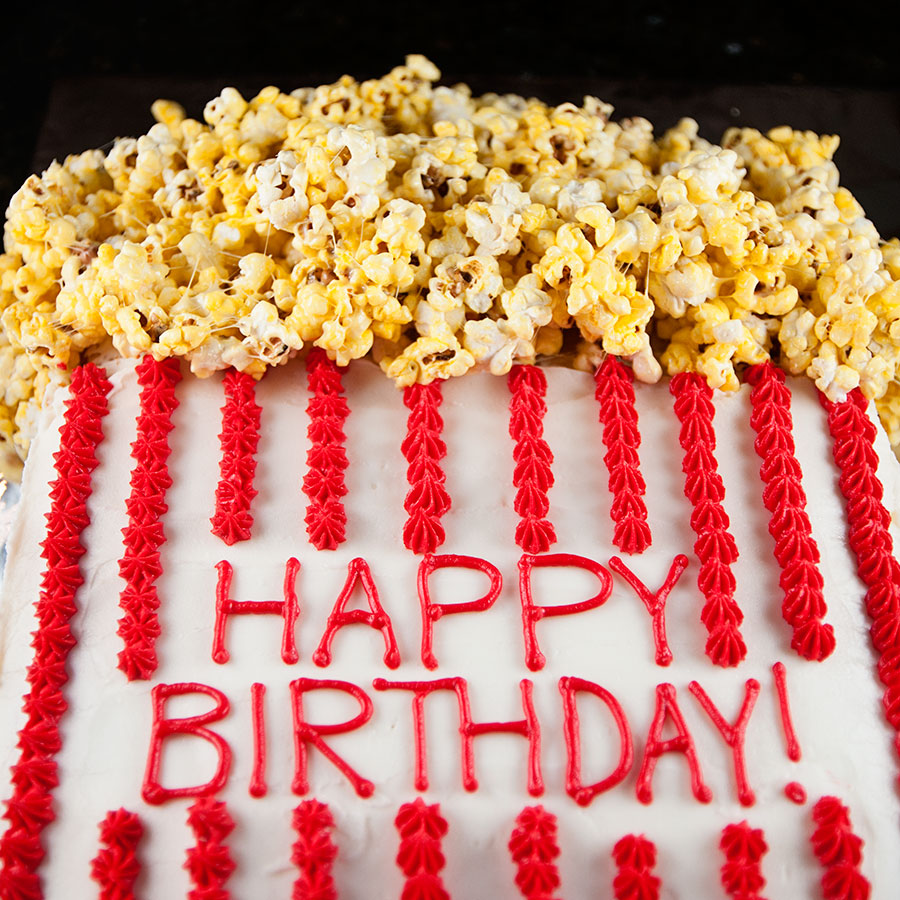 Happy birthday, Lori! Lori is Andrea's mom. I've mentioned Andrea a lot on my blog — as she's one of my favorite people and a BFF. Lori's birthday was exactly one week ago. Andrea and I made her this popcorn cake because popcorn is her favorite food (smart lady because popcorn is nearly perfect, am I right?!)
The cake was relatively simple to make. It's a basic 9×13 cake covered in icing — and topped with gooey-marshmallow-covered popcorn. Here are the instructions if you'd like to try this yourself for the popcorn lover in your life.
Popcorn Birthday Cake
Print Recipe
You'll need:
9×13″ cake pan
2 boxes of cake mix, plus required oil + eggs (use any flavor you'd like)
A batch of buttercream icing (I would recommend the White Buttercream recipe here)
Red food coloring (I would recommend AmeriColor's Super Red)
A small round pastry tip
A small star pastry tip
A few disposable pastry bags
5-6 cups of popcorn
2 Tablespoons butter
A half bag of mini marshmallows
1. Make the cake batter according to box directions — and use two boxes, as you'll want a thick cake. Spray the 9×13″ pan with non-stick spray and fill with cake batter. Bake until a tester comes out clean. Since I used two boxes worth of cake batter, it took my cake about an hour. But ovens vary — so check on your cake frequently!
2. While the cake is baking, make the buttercream icing according to the directions provided in the link above.
3. Once your cake has cooled entirely, level it with a knife (in other words, slice the dome off the top of the cake — so you have a nice, flat surface). Frost the cake with white icing.
4. Dye some of the left over icing red. Use the small round tip to write "Happy Birthday!" near the middle of the cake and use the small star tip to create the stripes.
5. In a large pan, melt the 2 Tablespoons of butter over low heat on the stove. Add about a half a bag of mini marshmallows and stir until the mixture is smooth. Add in your popcorn. We didn't write down exactly how much popcorn we added, but I'm guessing it was about 5 cups. What you want is something akin to rice krispie treats — but with popcorn instead of krispies. If you don't incorporate the marshmallow, the popcorn pieces have no way of sticking together.
6. Cut a portion of the top of the cake off. You will need to do this to make room for the popcorn and to give the popcorn a place to sit. Don't be afraid, just slice off the top 1/4 or so of the cake!
7. While the popcorn mixture is still warm, add it to the top of your cake. Again, no exact science here — just do what works best to make it look like popcorn is coming out of the box.
Enjoy!
PS: I hope you have leftover popcorn + marshmallow mixture — because that was our greatest discovery while making this cake. It's phenomenal!