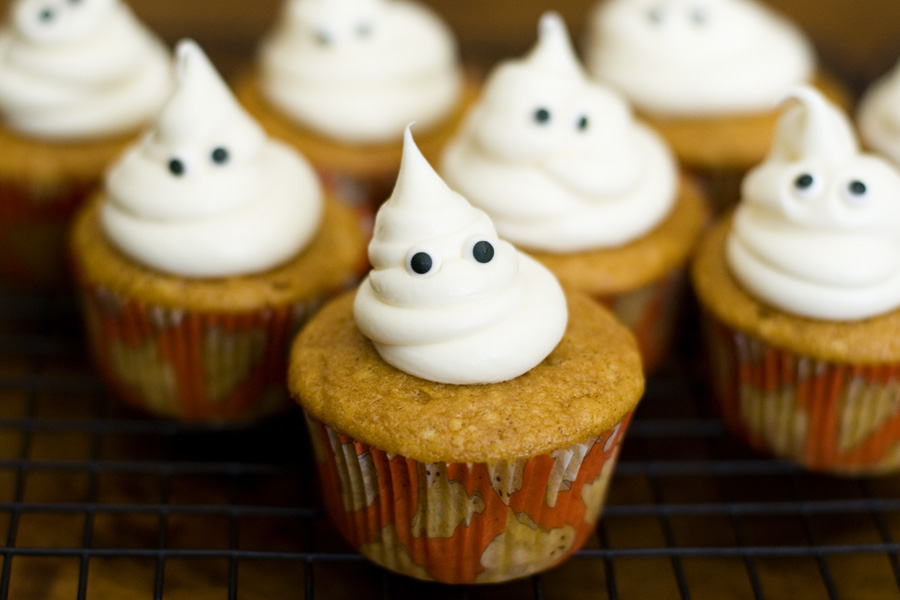 Happy October! My favorite month of the year.
As mentioned last year, I am not a fan of anything having to do with pumpkin. Maybe I have an orange food aversion (I don't enjoy carrots either!). Who knows. I do, however, wish that I liked pumpkin. It's the epitome of autumn and it seems like every recipe I see has pumpkin listed as an ingredient. I made cupcakes similar to these last fall, but here's a new twist on them.
Pumpkin Cupcakes
Recipe source: Betty Crocker
Print Recipe
3 cups Original Bisquick Mix
1 cup granulated sugar
1 cup packed brown sugar
1/4 cup butter or margarine, softened (you know I went with butter here!)
2 teaspoons pumpkin pie spice
1/4 cup milk
4 eggs
1 can (15 oz) pumpkin (not pumpkin pie mix)
1. Preheat oven to 350F. Line 24 muffin cups.
2. In large bowl, beat all ingredients on low speed for 30 seconds. Beat on medium speed for 3 minutes. Divide batter evenly among muffin cups.
3. Bake 25-30 minutes or until a tester comes out clean. Cool 5 minutes; remove from pan to cooling rack. Cool completely before frosting.
Cream Cheese Frosting
Recipe source: Betty Crocker
3 oz cream cheese, softened
1/2 cup butter or margarine, softened
2 teaspoons vanilla
4-1/2 cups powdered sugar
1. In large bowl, beat cream cheese and butter on low speed for about 30 seconds. Beat in vanilla and 2 cups of the powdered sugar on low speed about 30 seconds or just until mixed, then on high speed about 1 minute or until fluffy. On medium speed, gradually beat in remaining 2-1/2 cups powdered sugar. If too soft to mound, add additional powdered sugar, a Tablespoon at a time.
2. Use a ziploc bag or a piping bag (fitted with a round tip) to pipe ghost-shaped mounds on each cupcake. Press two mini chocolate chips, flat side out, into frosting for eyes.*
*I used sugar "eyes". I bought them at a local baking store in Madison (Vanilla Bean). And because I think they are adorable, here's one more photo: