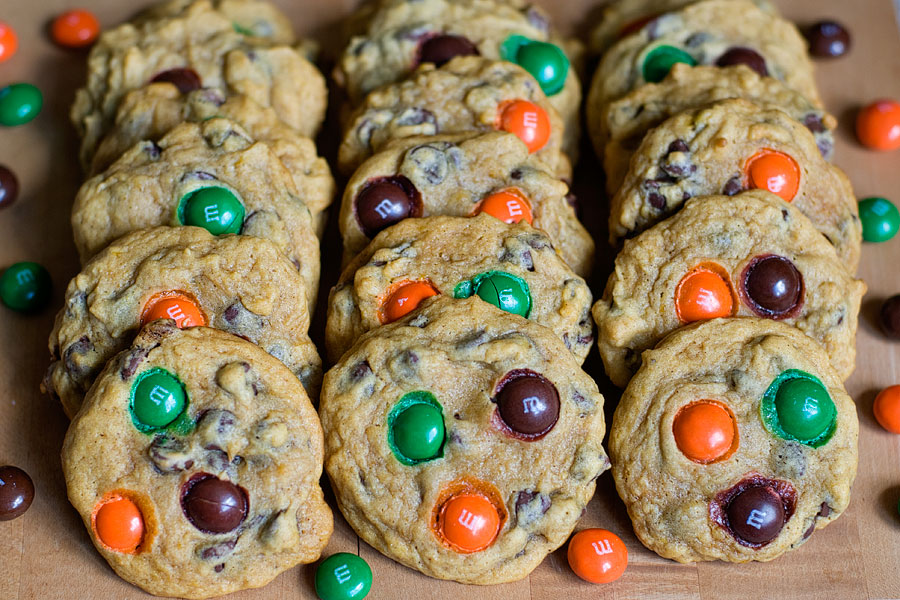 Oh look, another pumpkin recipe! My parents and I were at Target a few weeks ago. My Dad grabbed a bag of pumpkin M&Ms and said, "I bet these would be good in a cookie." That was his sort of subtle way of telling me to make him a batch! I will admit, I didn't try these cookies. I made them and handed them off to my Dad in a tupperware container. But I'm guessing they were good? Ha! Have you all tried the pumpkin M&Ms? What do you think? I've heard mixed reviews [though not as overwhelmingly negative as the reviews for the candy corn flavored M&Ms!].
Pumpkin M&M Cookies
Recipe source: Cookies & Cups
Print Recipe
1 cup butter, room temperature
3/4 cup canned pumpkin
1 cup light brown sugar
1/2 cup granulated sugar
1 egg
1 tsp vanilla
1 tsp baking soda
1 tsp pumpkin pie spice
1 tsp salt
2 1/2 cups flour
2 cups chocolate chips
+ a bag of pumpkin M&Ms
1. Preheat oven to 350°
2. Line baking sheet with parchment paper and set aside.
3. In bowl of stand mixer beat the butter and pumpkin together until evenly combined, 2-3 minutes.
4. Add both sugars and beat another minute.
5. Add eggs, vanilla, baking soda, pumpkin pie spice and salt. Beat until smooth.
6. Turn mixer to low and add in flour.
7. Finally stir in chocolate chips.
8. Drop by rounded tablespoon onto lined baking sheet and place a few M&Ms on the top of each cookie. Bake for 9-11 minutes until centers are just set and edges are golden.
9. Allow to cool for 3-4 minutes on baking sheet and then transfer to wire rack to continue cooling.
Makes about 3 dozen cookies.