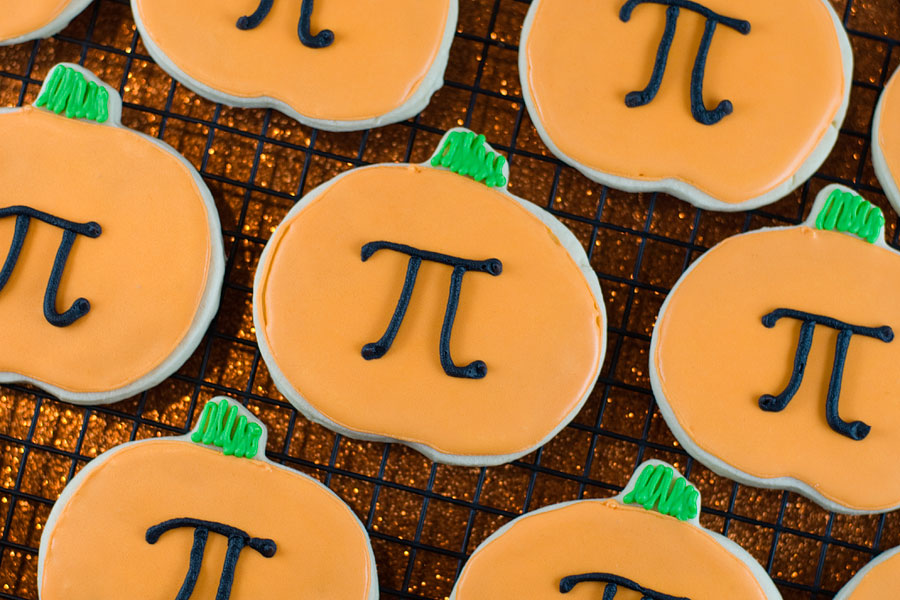 Halloween is 1 week away! Also, I want to say hi to Linzy! Thanks for reading my blog as much as you do – and I love that you and your Dad enjoy baking together. I got my love of cooking/baking from my dad, too. :)
Today's post is a merger between Halloween and Thanksgiving.
It is no secret that I'm not a huge fan of anything having to do with pumpkin. I don't like pumpkin lattes, I don't like pumpkin cookies, and I REALLY don't like pumpkin pie. But then I saw these cookies over at Bake at 350 and fell in love. They combine my love of cookies, puns, and math/science. Perfection! Also, Bridget from Bake at 350 has a new book out – all about how to decorate cookies with royal icing. It's called "Decorating Cookies: 60+ Designs for Holidays, Celebrations & Everyday" and it is amazing. If you want to learn how to decorate these kinds of cookies, buy her book! I am not being paid or compensated to say this, I just really love her book.
Pumpkin Pi Cookies
Inspired by: Bake at 350, cookie/icing recipes from annies-eats.com
Print Recipe
Almond Flavored Sugar Cookies
1 cup butter
1 cup powdered sugar
1 egg, beaten
1-1/2 teaspoon almond extract
1 teaspoon vanilla
1 teaspoon salt
2-1/2 cups sifted flour
Directions:
Cream butter. Add powdered sugar. Blend in egg, almond extract, vanilla, salt and flour. Chill dough until firm. Roll to ¼â€ thickness on well-floured surface. Cut with cookie cutters. Place on greased cookie sheets. Bake at 375° for 8-10 min. Cookies should not brown. Frost and decorate when cool. Yield will depend on size of cookies.
White Royal Icing
4 cups powdered sugar, sifted
2 Tablespoons meringue powder
5 Tablespoons water
Directions:
Combine all ingredients in the bowl of a stand mixer fitted with the paddle attachment. Mix on low speed until the sheen has disappeared and the icing has a matte appearance (about 7-10 minutes). Transfer the contents of the mixing bowl to an air-tight container. This will be the stiffest consistency of the icing, and at this point it is still too stiff to use for decorating. Add water a very small amount at a time and stir by hand until fully incorporated. Continue until the icing has reached a consistency appropriate for piping.
Decorating Instructions:
Refer to Annie's Eats for her tutorial on royal icing – and how to outline, flood, etc.
I used a Wilton soft-grip pumpkin cookie cutter for these cookies.
I outlined and flooded the pumpkins with orange icing; using Wilton's gel food coloring to achieve the bright orange.
I piped the stem using a small round tip and Wilton's gel coloring in "Leaf Green"
Once the cookies were dried completely, I piped the symbol for pi onto the cookie using a slightly larger round tip and icing dyed with AmeriColor's Super Black.