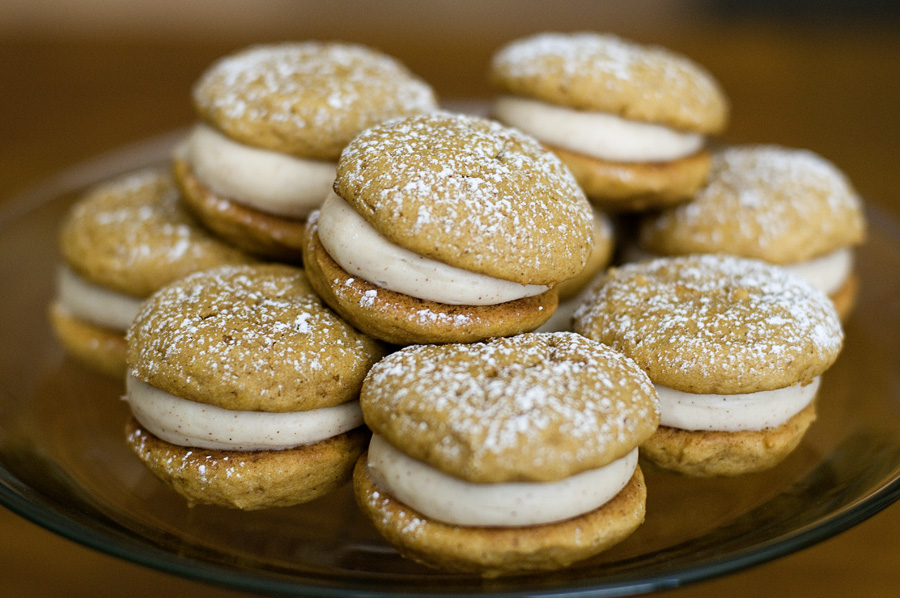 Something miraculous happened a few days ago. I ate a piece of pumpkin bread – and I kinda liked it. Has hell frozen over? Maybe I'm starting to like pumpkin! To celebrate my maybe-possibly-could-be-who-knows venture into pumpkin-based foods, here's a easy recipe for pumpkin cookies!
Pumpkin Sandwich Cookies
Recipe source: Land O' Lakes
Print Recipe
Cookies:
2 cups all-purpose flour
1 teaspoon baking soda
1 teaspoon pumpkin pie spice
1/2 teaspoon baking powder
1/2 teaspoon salt
1 cup firmly packed brown sugar
1/2 cup butter, softened
1/2 cup canned pumpkin
1/4 cup milk
1 egg
1 teaspoon vanilla
Filling:
8 oz cream cheese, softened
2 Tablespoons butter, softened
1 teaspoon ground cinnamon
1 teaspoon vanilla
4 cups powdered sugar
1. Preheat oven to 350F, line cookie sheets with parchment paper.
2. Combine flour, baking soda, pumpkin pie spice, baking powder, and salt in medium bowl. Set aside.
3. Combine brown sugar and 1/2 cup butter in large bowl; beat at medium speed until creamy. Add pumpkin, milk, egg, and 1 teaspoon vanilla; beat until well-mixed. Reduce speed to low; add flour mixture and beat until well-mixed.
4. Drop batter by level Tablespoonfuls onto cookie sheets. Bake for 9-10 minutes or until set and edges are slightly brown. Cool 2 minutes on cookie sheets; remove to write cooling rack.
5. Combine all filling ingredients except powdered sugar in large bowl. Beat at medium speed, scraping bowl often, until smooth. Gradually add 4 cups powdered sugar, beating well after each addition.
6. Spread 2 teaspoons (more or less if you like!) of the filling onto the bottom side of one cookie. Top with another cookie. Sprinkle filled cookies with powdered sugar.
Makes about 2-3 dozen sandwich cookies.