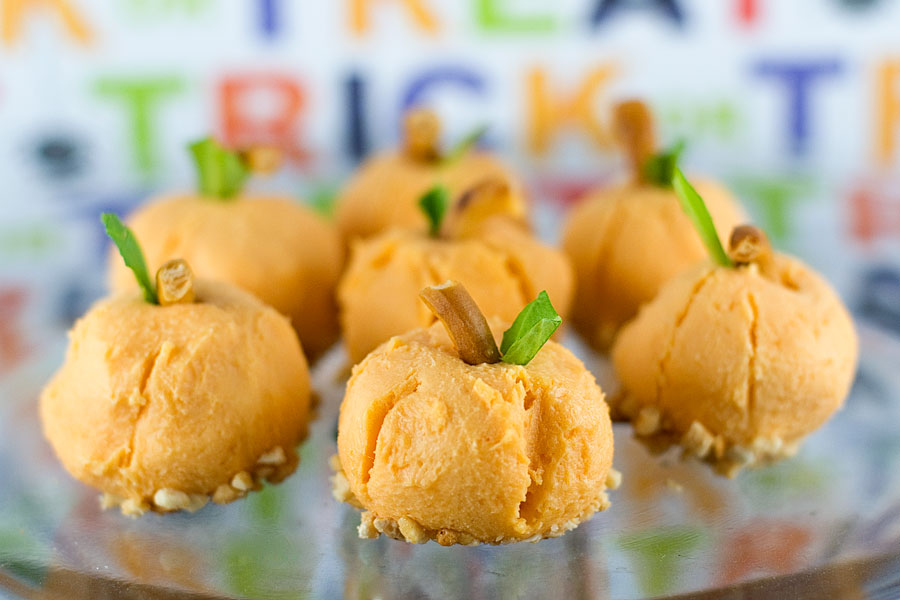 I am cheese LOVER. I have yet to meet a cheese that I haven't liked (even the moldy, stinky cheeses are OK in my book). One of my guilty pleasures are the tubs of Merkts or Kaukauna cheese spreads. So, so delicious! Especially on Ritz crackers. If you are having a Halloween party, make these for sure!
Pumpkin-Shaped Cheese Treats
Print Recipe
1 tub of cheddar cheese spread (by Merkts or Kaukauna)
1/2 cup crushed peanuts
Pretzel pieces (stems)
Lettuce bits (leaves)
1. Shape the cheese into 1″ balls. This is easier to do if the cheese is COLD, so you might want to throw it in the freezer for a while before you begin.
2. Create lines on the cheese balls with a toothpick or fork to help them resemble pumpkins.
3. Coat the bottom of each "pumpkin" in crushed peanuts.
4. Place a pretzel piece on the top of each for the stem; and a piece of lettuce for the leaves.
Does it get more simple than that?!