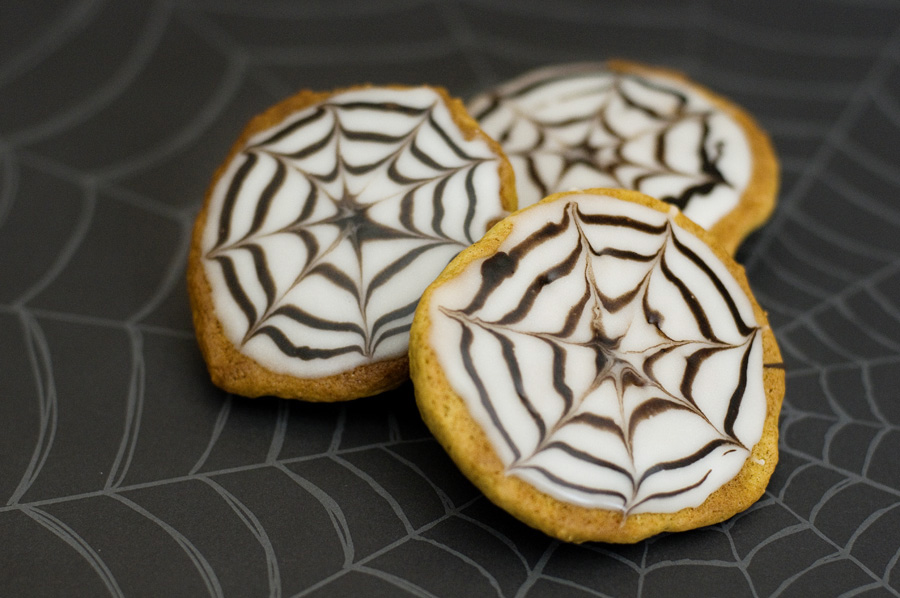 Happy Halloween! If I've learned nothing else from baking these cookies, it's that I could never be a surgeon. Just LOOK at those shaky spiderwebs! I'm sure the real spiders of this world would shake their little arachnid heads in shame. But it's okay, I'm cool with it.
Pumpkin Spiderweb Cookies
Recipe source: unknown
Print Recipe
Cookies:
2-2/3 cups all-purpose flour
1 teaspoon baking soda
3/4 teaspoon salt
1/2 teaspoon ground allspice
3/4 cup canned solid-pack pumpkin
1/4 cup milk
1 cup granulated sugar
1/4 cup (1/2 stick) unsalted butter, softened
2 eggs
Icing:
3 cups confectioners sugar
3 Tablespoons light corn syrup
1/2 teaspoon vanilla extract
3 Tablespoons plus 4 teaspoons milk
2 Tablespoons unsweetened cocoa powder
1. Preheat oven to 350F. Line cookie sheets with parchment paper or spray with nonstick coating spray.
2. Combine flour, baking soda, salt, and allspice. In small bowl, stir together the pumpkin and milk. In large bowl, beat sugar and butter until blended – about 1 minute. Beat in eggs. On low speed, alternately beat in flour mixture and pumpkin mixture, ending with flour mixture.
3. Drop 1/4-cupfuls of dough onto prepared sheets, spacing 2 inches apart. Spread slightly with spatula.
4. Bake 1 sheet at a time for 13-15 minutes, until toothpick inserted in center tests clean. Remove to rack to cool.
5. For the icing: blend powdered sugar, corn syrup, vanilla, and 3 Tablespoons plus 2 teaspoons milk until smooth. Remove 1/3 cup icing to small bowl and stir in cocoa and remaining 2 teaspoons milk. Transfer chocolate icing to plastic piping bag; snip off corner.
6. Turn cookies flat-side up. Spread white icing over one cookie. Beginning in center, pipe a spiral of chocolate icing. Starting in the center, drag a knife through spiral for spiderweb pattern. Repeat with all cookies. Let stand until set.
Makes about 14 cookies. If your icing is too thin, add more powdered sugar. If your icing is too thick, add more milk to thin it. This icing sets quickly, so try to work as quickly as you can.