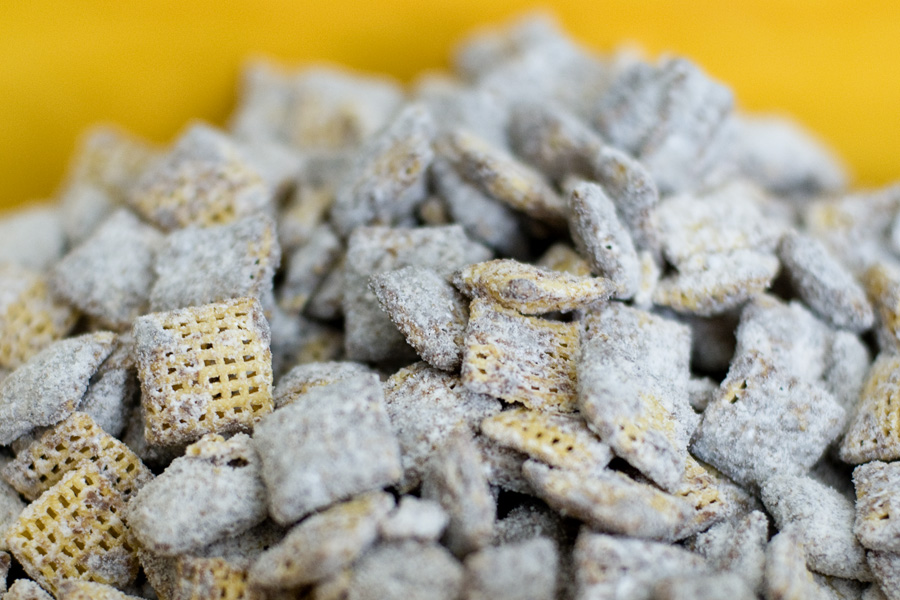 Okay okay, there isn't really much baking involved in this recipe. Or much effort, for that matter. But Puppy Chow is one of the most simple and delicious treats imaginable. It's one of those treats where I lose all control and the "I'm full" sensor in my brain shuts down. This is also a snack where you can really experiment with the ingredients. If you like dark chocolate, make it with that instead of milk chocolate. If you like really, really coated Chex – double the amount of peanut butter and chocolate used. Add other things to the mix after you've coated the cereal with powdered sugar — like nuts or seasonal candies (like candy corn!). Have fun with this recipe — it's really, really hard to screw up!
Puppy Chow
Recipe source: Betty Crocker
Print Recipe
4-1/2 cups Corn Chex cereal
1/2 cup semisweet chocolate chips
1/4 cup creamy peanut butter
2 Tablespoons butter
1/2 teaspoon vanilla
3/4 cup powdered sugar (you may want to use more to ensure a good coating)
1. Measure cereal into a large mixing bowl. Set aside.
2. Microwave chocolate, peanut butter, and butter in an uncovered bowl on high for 30 seconds. Stir. Microwave an additional 15-30 seconds or until the mixture can be stirred smooth. Stir in vanilla. Pour mixture over cereal – stirring gently until evenly coated. Pour into 1-gallon resealable plastic bag.
3. Add powdered sugar. Seal bag; shake until well coated. Store in an airtight container or refrigerate.
* This recipe is gluten-free!